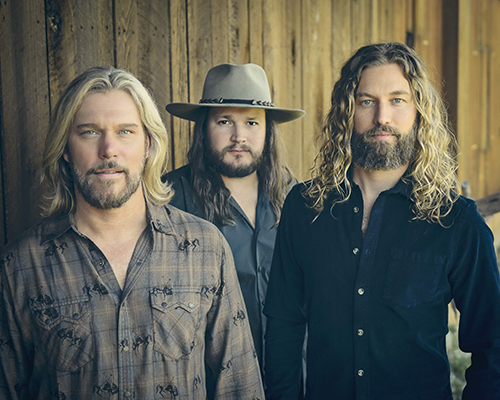 TEXAS HILL
with special guests Partners In Crime (featuring Matt Smart and Benny Bass)

DOORS: 6:00PM SHOW: 7:30 AGES: 13+

Texas Hill is a gritty amalgam of overlapping tastes and distinct voices that meet in the middle as a bold harmonic trio.

Craig Wayne Boyd offers a voice full of gospel-tinged country smoke, Adam Wakefield blends a rootsy bluegrass-and-Americana rasp, and Casey James wraps it with a blue-eyed soul quality and deft blues guitar chops.

The result is a band that's both rock solid and highly adaptive. Texas Hill is instantly identifiable, thanks to its well-developed signature sound: a proud, in-your-face harmonic wall. But each of the three singers can, and does, take over the lead, inevitably pushing the group in his own unique direction while those harmonies allow the whole ensemble to hang on to its sonic center.

The Voice and American Idol worked in creating a fan base for all three. "When you go through something like that, the only people that can really relate to it are the ones who've also gone through it," Boyd notes. "The navigation is going to be just as hard as it ever was, but it's so much more rewarding when you're doing it as a group."

All three members of Texas Hill get their moments, but their collective harmonies are the glue, whether that's in the lockstep rollercoaster melody of "Easy On The Eyes" or in the stately and reassuring blend on "Darkest Sky," a hopeful effort with an always-timely focus on resilience.

The message in that last song – "There's somethin' 'bout those hard times that bring us all together" – is an embrace of cultural unity, but it applies to the music and the name of Texas Hill, too. Central Texas is a melting pot of vastly different musical styles. Bob Wills' western swing, a mix of jazz and country, has roots in the Texas Hill Country, and his music was a huge influence on Willie Nelson, whose blend of country, blues, gospel, jazz and pop is typical of the state's attitude.

Wakefield does not share his bandmates' geographical roots, but he grew up on Texas Hill Road in a rural part of New Hampshire, and a group he intended on forming with his now-late brother used Texas Hill as its moniker.

That same name is an apt title for a group that brings bedrock harmony to a juncture of multiple styles. Music fans in the playlist era are much less predictable than audiences of a previous time. They have the ability to mix, match, blend and reshuffle genres, and it's not uncommon to find listeners whose favorites include modern country, classic soul, arena rock and traditional pop all in the same mix. The three members of Texas Hill are spokes on a wheel, and the music finds its balance one song at a time through a natural friendship.

PARTNERS IN CRIME
Partners In Crime—Matt Smart and Benny Bass (Benjamin Geis)—are an electrifyingly energetic duo. The group offers a fresh look at the American songbook highlighted musically by exciting moments of inventiveness and spontaneity. The group is joined by special guest drummer Rory Walsh.

Matt Smart is a local legend known for his soulful guitar sound deeply rooted in the traditions of blues R&B and country music. Based in New England, he was a member of Boston Music Award-winning band Township. He has performed with a wide variety of artists including John Bonet and Wendell Cox (Travis Tritt), Asa Bremner, Don Saviano and many other notable musicians.

Benny Bass (Benjamin Geis) is an electric bassist with a reputation for working with iconic artists in multiple genres of music and has performed all over the world. Living in New York City he worked extensively with Rap Legend Slick Rick. He has been bassist for the Grammy Award winning hip-hop legend Big Daddy Kane for over a decade and enjoys live performances with him regularly all over the country. As Bassist for NYC rock group theSHIFT he worked with legendary record producer and Woodstock creator Artie Kornfeld. The Shift most notably had a hit with their song "Dreams" on the charts in Lima Peru. Spending 7 weeks at number 1, it was eventually listed at #5 of the top 100 songs of 2016. He has been featured in numerous printed publications, national television and radio programs including: NPR Tiny Desk, Sway in the Morning, MTV News, Good Day New York, Ed Lover show, BET, Rolling Stone, Billboard, The Source, Rolling Stone and many others.

Rory Walsh has been drumming for over 30 years, performing between Europe and the US. He has played with Roscoe Mitchell, Freddie Hubbard , Don Cherry, Joseph Jarmon, Medicine Sunday, KRS-1 and Arrhythmic Perfection to name but a few. Rory has appeared in support slots with Tyman Tymanski and Herbie Hancock at JVC in Warsaw and JVC New York with Charles Gayle. He freelances for many jazz, rock and soul bands, and has his own band, the Jackleg Preachers.

Presented by The Flying Monkey
ADDRESS
39 Main St
Plymouth, NH 03264
EVENT INFORMATION
Phone: 603-536-2551
TICKET INFORMATION
Phone: 603-536-2551