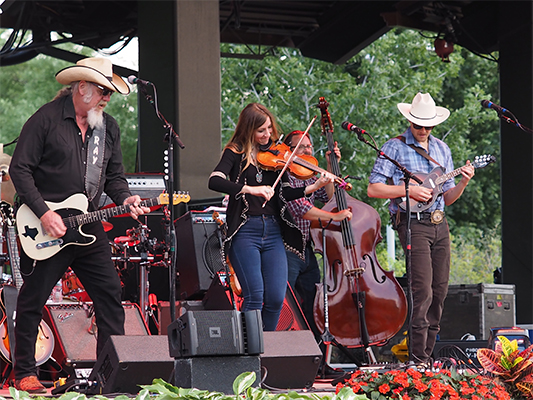 ASLEEP AT THE WHEEL – 2021
SOLD OUT!
DOORS: 6:00PM SHOW: 7:30 AGES: 13+
With Special Guest Joel Thetford opening
Ray Benson founded Asleep at the Wheel in Paw Paw, West Virginia 49 years ago. Now based in Austin, the band holds 10 Grammy awards, 20 studio albums and 20 singles on the Billboard country charts. The Grammy Award-winning Still The King: Celebrating the Music of Bob Wills and His Texas Playboys was released in 2015 and marked their third full-length Bob Wills tribute album. Their most recent album "New Routes" is both a new path forward and a nod to the freewheeling roots (get it?) of one of Texas' most beloved bands, marking 2018 with their first album of new material in a decade. Asleep at the Wheel's newest members Katie Shore (fiddle, vocals), Dennis Ludiker (fiddle, mandolin), Connor Forsyth (keyboard, vocals) and Josh Hoag (Bass), have given the band a newfound energy and their own unique style, and Asleep at the Wheel veteran David Sanger (Drums) rounds it all out.
2020 is an exciting year for Asleep at the Wheel as it is the 50th Anniversary! It's a year filled with even more fresh takes on old tunes, exciting events across the country, and appearances by some of the original band members!
Between those Texas Twin Fiddles and Boogie Piano, you can bet you'll be dancin' at your seats and swingin' all night long when the Wheel rolls into town!
JOEL THETFORD

Raised in the shadow of Billy Bob's, one of Texas's legendary honky tonks, Joel Thetford grew up in Fort Worth listening to the sounds of classic country radio and the wide variety of rock and roll, blues, and folk music that the Texas scene provided. His career as a bull-rider landed him eventually in Stephenville, where the Texas Country scene was booming. With acts like Gary Stewart, Jerry Jeff Walker, and Robert Earl Keen, making regular stops in town, those were Joel's earliest and strongest influences as he began writing songs.
Joel Thetford has become a fixture in the songwriting community and has been featured as supporting act for national headliners such as Dwight Yoakam, Alabama, Shooter Jennings, Asleep At The Wheel, James McMurtry, Sarah Shook & the Disarmers, Hayley Thompson-King, The Alternate Roots, Barns Courtney, and many more. Joel has also appeared at the Heart Soul & Substance Festival, Sunaana Winter Music Festival, and AllRoads Music Festival.
Joel's debut album "Here I Go" was released in the summer of 2015. Joel's 2nd album "The Outer Bank" was recorded and produced by 2017 New England Music award winning producer of the year Jonathan Wyman at The Halo, and mastered by Grammy award winning Dave Collins in Los Angeles. Joel's 3rd album "Broken Things" recorded and produced by Jonathan Wyman and mastered by Grammy award winning Adam Ayan was released spring of 2018. Joel's 4th album was released spring of 2020 and features the full band live from there show with Sarah Shook and the Disarmer at Port City Music Hall. Joel's 5th album "Jacksboro Highway" was released November 24th 2020, and 6th album "January Heartbreak" was released April 19th 2021.
Presented by The Flying Monkey
ADDRESS
39 Main St
Plymouth, NH 03264
EVENT INFORMATION
Phone: 603-536-2551
TICKET INFORMATION
Phone: 603-536-2551