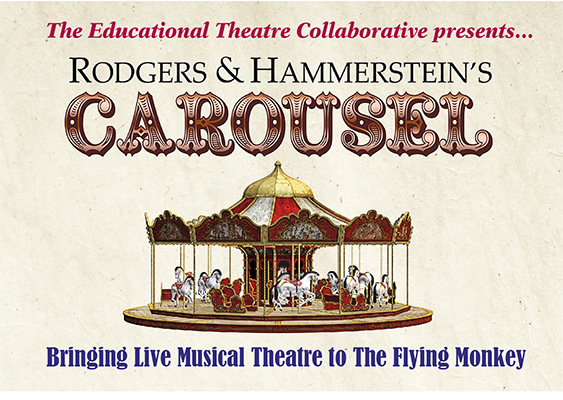 CAROUSEL
Exciting News!

Rodgers and Hammerstein's favorite musical
CAROUSEL
Is coming to the Flying Monkey, Plymouth, NH.
Performed by ETC, the Educational Theatre Collaborative,
Carousel is Co-Sponsored by the Common Man Family and Plymouth State University

January 15 – Doors: 5:30pm, Show: 7:00pm (The Only Dinner Show)
January 16 – Doors: 12:00pm, Show: 1:00pm
January 16 – Doors: 6:00, Show: 7:00pm
January 18 – Doors: 6:00, Show: 7:00pm
January 19 – Doors: 6:00, Show: 7:00pm

From the magical evocation of the carousel in the overture to the majestic and moving strains of the immortal "You'll Never Walk Alone", this giant of the musical stage remains timeless and starbright. The poignant story of the faithful Julie and her brutish husband Billy is one of the most powerful books of the musical theatre and perfectly matches its extraordinary score. The story revolves around Billy Bigelow, a carousel barker whose romance with millworker Julie Jordan comes at a high price. He participates in a robbery to provide for Julie and their unborn child; after it goes tragically wrong, he is given a chance to make things right. The show includes the well-known songs "If I Loved You", "June Is Bustin' Out All Over" and "You'll Never Walk Alone". Richard Rodgers later wrote that Carousel was his favorite of all his musicals.

Music by Richard Rodgers, book and lyrics by Oscar Hammerstein II, based on "Liliom" by Ferenc Molnar, adapted by Benjamin F. Glazer.

ETC's production is directed by Trish Lindberg with musical direction by Harmony Markey and choreography by Gustavo Wons. The set is designed by Szu-Feng Chen, projections are by Alex Koch and lighting design is by Peter Liebolt.

A MESSAGE FROM ETC
ETC are requiring
that patrons wear a mask during the performance when not eating or drinking.
We at ETC are THRILLED to offer streaming of our production. You can watch our show virtually beginning on January 18th. If you would like to purchase tickets to one of the performances, please go to: https://www.showtix4u.com/event-details/60478. All information will be found at this link.

ADDRESS
39 Main St
Plymouth, NH 03264
EVENT INFORMATION
Phone: 603-536-2551
TICKET INFORMATION
Phone: 603-536-2551