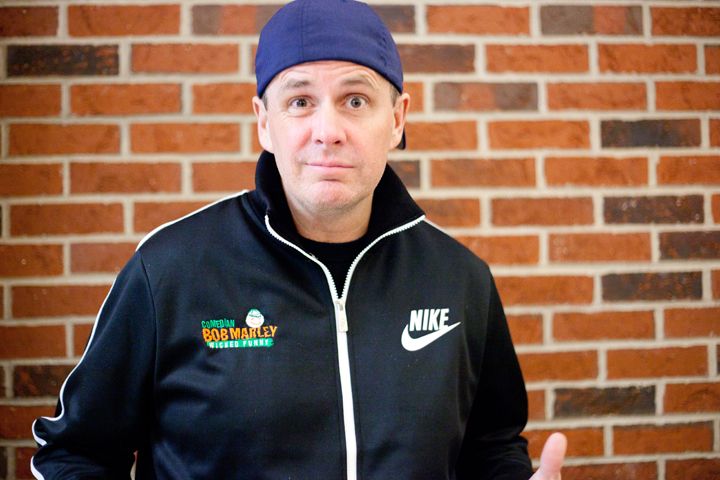 COMEDIAN BOB MARLEY 230PM
**ALL COMEDIAN BOB MARLEY SHOWS ARE SOLD OUT!**

2:30PM Show – Sold Out!

DOORS: 1:30PM SHOW: 2:30 AGES: 18+
5:30PM Show – Sold Out!

DOORS: 4:30PM SHOW: 5:30 AGES: 18+
8:30PM Show – Sold Out!

DOORS: 7:45 SHOW: 8:30 AGES: 18+
Limited seating available due to social distancing.
**THIS IS THE WEBPAGE FOR THE 2:30PM SHOW**
Artist Bio:
Marley's brand of high energy and off beat observation of everyday life things has captured the minds of fans of all ages including teenagers to grandparents in their 80's. He has been featured in his own special on Comedy Central, and is one of the few comics to do the complete late- night TV circuit: "The Late Show" with David Letterman, "The Tonight Show" with Jay Leno, "Late Night" with Conan O'Brien and "The Late Late Show" with Craig Ferguson and Craig Kilborn. Marley, a Maine native and University of Maine at Farmington graduate, uses biographical and observational material for his high-energy routines. He began his career in his hometown of Portland, and then moved to Boston to gain experience in a city known for spawning comedy all-stars!
Bob has also placed his mark on the silver screen with the cult favorite "Boondock Saints" as the memorable and always goofy Detective Greenly. Performing with acting greats like Willem Dafoe, Billy Connolly and Peter Fonda. Marley's dedication to always coming up with new material is leading him into his 20th year as a stand up comedian performing over 250 shows a year across Maine, New England and around the country.
You don't need to be a 'Maine-iac' to laugh yourself silly at Bob's wicked funny antics. Get your tickets early as all his past shows have sold out in advance!
Ticketing:
Obviously, things are different now and we will be working with a new seating format adapting to the COVID-19 social distancing parameters.
Minimum 2 tickets and maximum 6 tickets can be purchased per user.
Tickets for the theatre style seating will be sold by best available seating at the time of purchase. You will be assigned seats following your purchase prioritized by time of purchase, best available, and socially distanced. Notification will be by email from the box office within 48 hours.
You will still be able to choose tables given some restrictions…
There are limited tables available so we can properly distance. It is required that all seats be purchased at the table. Only one party will be seated per table. There will not be full dinner service at these shows. There will be table service with, hot & cold appetizers and drinks at the tables. We welcome you to call the box office (603-536-2551) for any questions, or to accommodate larger groups during this time.
COVID-19 Policies:
In accordance with The State of New Hampshire, as well as the Mask Ordinance issued by the town of Plymouth, guests are required to wear masks while entering and exiting the theatre, as well as in any common areas. Our staff will complete a questionnaire, have their temperatures taken upon arrival, and wear masks throughout the event to ensure guest safety. Additionally, we have a two-step sanitation procedure for common areas during a show and in between shows. We hope this makes you realize we are giving it our all in an attempt to provide a safe and fun environment.
THIS SHOW CONTAINS ADULT MATERIAL AND IS STRICTLY 18+
Presented by The Flying Monkey
39 Main St
Plymouth, NH 03264
Event Information
Phone: 603-536-2551