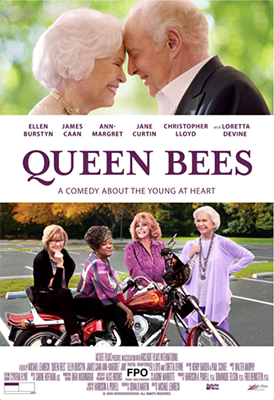 Flying Film Series "QUEEN BEES"
Doors: 6:00PM Film: 6:30 Rated: PG-13

Saturday, June 19

Thursday, June 24

Saturday, June 26

While her house undergoes repairs, fiercely independent senior Helen (Oscar winner Burstyn) moves into a nearby retirement community ― just temporarily. Once behind the doors of Pine Grove Senior Community, she encounters lusty widows, cutthroat bridge tournaments and a hotbed of bullying "mean girls" the likes of which she hasn't encountered since high school, all of which leaves her yearning for the solitude of home. But somewhere between flower arranging and water aerobics Helen discovers that it's never too late to make new friends and perhaps even find a new love.
Ellen Burstyn (The Exorcist, Requiem for a Dream, Alice Doesn't Live Here Anymore (Academy Award for Best Actress))
James Caan (The Godfather (Academy Award Nomination), Misery, Thief)
Ann-Margret (Bye Bye Birdie, Grumpy Old Men, Tommy (Academy Award Nomination)
Jane Curtain (3rd Rock from the Sun, Saturday Night Live, Kate & Allie (2x Emmy Award for Best Actress))
Christopher Lloyd (Back to the Future, Taxi (2x Emmy Award Winner for Best Supporting Actor))
Loretta Devine (Crash, Grey's Anatomy (Emmy Award for Best Guest Actress))
General admission $10 Adults / $7 Seniors & Students.
Presented by The Flying Monkey
39 Main St
Plymouth, NH 03264
Event Information
Phone: 603-536-2551