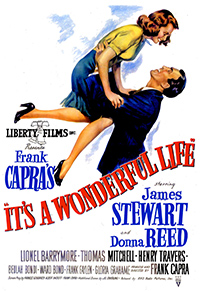 IT'S A WONDERFUL LIFE
Doors: 6:00   Film: 6:30   Rated: PG

Buy Now and Save!

Tickets will be $10 leading up to the event, and $12.50 on the day of the show.
George Bailey has so many problems he is thinking about ending it all – and it's Christmas! As the angels discuss George, we see his life in flashback. As George is about to jump from a bridge, he ends up rescuing his guardian angel, Clarence – who then shows George what his town would have looked l

ike if it hadn't been for all his good deeds over the years.
More Info on Kindness For Kentucky:
Join The Common Man family in assisting our neighbors in need after devastating tornadoes struck in Kentucky.
Common Man owner Alex Ray and a crew of Granite State volunteers are heading to the area to assist with relief efforts and volunteer with World Central Kitchen, as Alex has done at other disaster sites.
You can help here in New Hampshire, too!
Visit any Common Man family location to make a donation towards tornado relief efforts. Funds raised will benefit World Central Kitchen, American Red Cross and other non-profit agencies and organizations working to provide local assistance in Kentucky.
Alex and The Common Man will MATCH your donation 100%, up to a total of $100,000 raised for all charities combined, through December 31.
Thanks for helping us DO GOOD!
Presented by The Flying Monkey
39 Main St
Plymouth, NH 03264
Event Information
Phone: 603-536-2551