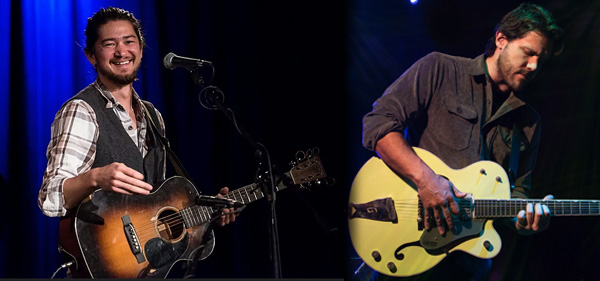 JAY PSAROS and JASON SPOONER
JAY PSAROS and JASON SPOONER

Co-Headlining Show
DOORS: 6:00PM     SHOW: 7:30     AGES: 13+
What type of songwriter is Jay Psaros? That's a question Psaros has been asking himself for years. Psaros, a long time resident of the Northeast was born into a family of the self employed. Like the self employed, his music has ebbed and flowed in and out of "where the work is," so to speak. Crossing genres as needed and blending styles as desired. Psaros has worked in a most peculiar musical landscape. His gigs have ranged from bar rooms, to medieval themed dinner theaters, to small clubs, house concerts, weddings and everything in between. He's hustled as a booking agent, produced for other artists, written music blogs and even taught the occasional lesson. Recently, a stroke of good fortune. With just over a decade in the music industry, the sweaty bars and medieval costumes have given way to support slots for national acts and small headlining tours at regional clubs. Psaros has shared the stage with the likes of The Mavericks, Boz Scaggs, Daughtry, Third Eye Blind, Tower of Power, Ziggy Marley, Donovan Frankenreiter, Anders Osborne, Los Lonely Boys, Rick Springfield, Lisa Loeb, Three Dog Night, Rusted Root, Peter Cetera, Little River Band, The Original Wailers, Eddie Money, and Joe Nichols to name a few.
This multi-award winning New England-based songwriter discovered his father's collection of eight-track tapes as a child and never looked back. After early exposure to songwriter legends like Neil Young, Paul Simon, Jim Croce and Van Morrison along with Motown heavies like Marvin Gaye, Stevie Wonder and Gladys Knight, Jason was inspired to start making the rounds on coffee house stages in his teens. Shortly thereafter, he spent time in Europe performing in folk & blues clubs and on the streets of London and around Spain. Once back in the states, he landed a job at a roots & blues record label where he witnessed numerous Blues legends (including members of the original Muddy Waters band ) making magic in recording sessions. Before long, Jason jumped head-first into the Northeast's burgeoning songwriter scene.
COVID-19 Statement:
We appreciate that our fans have varying comfort levels and we're doing our best to host events in accordance with the state-mandated guidelines for our business during these times.
Some of the precautions we're taking include, but are not limited to: reducing attendance, offering socially-distanced seating plans allowing for six feet of space between all individuals/households and other parties, requiring that guests wear masks in all areas of the theater except when eating, drinking or seated six feet away from parties outside of their immediate household, requiring staff to follow all safety and sanitation policies and conduct pre-shift health screenings, and offering hand sanitizer stations throughout the theater.
While we understand that the Governor's statewide mask mandate has been lifted, we at the Monkey and our Common Man family feel that at this time, it's important to continue to require face coverings to protect our staff and guests, and to instill confidence in having a safe experience with us. We will re-assess our policy when appropriate.
Thank you for your continued support, cooperation and consideration of your fellow fans and our staff.
Presented by The Flying Monkey
ADDRESS
39 Main St
Plymouth, NH 03264
EVENT INFORMATION
Phone: 603-536-2551
TICKET INFORMATION
Phone: 603-536-2551