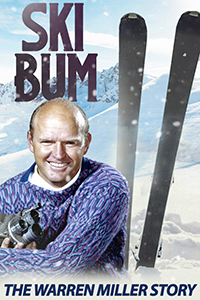 "SKI BUM The Warren Miller Story"
Limited seating available due to social distancing.
Buy Now and Save!

To allow for social distancing, we would greatly appreciate tickets to be purchased ahead of time. Tickets will be $20 leading up to the event, and $25 on the day of the show.
Presented By Dan Egan who will supply a raffle and prizes so bring a pen and win!
Tickets are $20 Advanced, $25 Day of Show. We strongly recommend getting tickets in advance as Warren Miller films have sold out in advance i the past.
Warren Miller was the most influential person in American winter sports. He was the voice of winter beckoning all of us to participate and explore decades. He accomplished this as a filmmaker and personality while pursuing his passion to be a ski bum. 
Ski Bum: The Warren Miller Story recounts Warren's life from overcoming his troubled childhood to his groundbreaking work in film making and winter sports. The film was created by O'Malley Creadon Productions in collaboration with Lorton Entertainment and BoBCat Studios and includes archival footage provided by Warren Miller Entertainment. Most notably, the documentary contains in-depth, on-camera interviews with members of the Miller family as well as Warren Miller himself, recorded shortly before his death. In addition to longtime friends and colleagues of Warren, skiers Scot Schmidt, Jonny Moseley, Colby James, and other world-renowned athletes speak to his impact in their lives and the ski industry as a whole. 
Ticketing: 
Obviously, things are different now and we will be working with a new seating format adapting to the COVID-19 social distancing parameters. 
Minimum 2 tickets and maximum 6 tickets can be purchased per user.
Tickets for the theatre style seating will be sold by best available seating at the time of purchase. You will be assigned seats following your purchase prioritized by time of purchase, best available, and socially distanced. Notification will be by emailed from the box office within 48 hours.
You will still be able to choose tables given some restrictions…
There are limited tables available so we can properly distance. It is required that all seats be purchased at the table. Only one party will be seated per table. There will not be table service at these shows.
We welcome you to call the box office (603-536-2551) for any questions, or to accommodate larger groups during this time.    
COVID-19 Policies:
In accordance with The State of New Hampshire, as well as the Mask Ordinance issued by the town of Plymouth, guests are required to wear masks while entering and exiting the theatre, as well as in any common areas. Our staff will complete a questionnaire, have their temperatures taken upon arrival, and wear masks throughout the event to ensure guest safety. Additionally, we have a two-step sanitation procedure for common areas during a show and in between shows. We hope this makes you realize we are giving it our all in an attempt to provide a safe and fun environment.
Presented by The Flying Monkey
39 Main St
Plymouth, NH 03264
Event Information
Phone: 603-536-2551