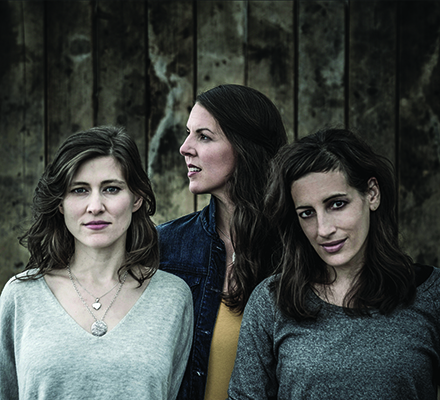 THE WAILIN JENNYS
DOORS: 6:00PM     SHOW: 7:30     AGES: 13+
The Wailin' Jennys are Nicky Mehta, Ruth Moody and Heather Masse three distinct voices that together make an achingly perfect vocal sound.
Starting as a happy accident of solo singer/songwriters getting together for a one-time-only performance at a tiny guitar shop in Winnipeg, Manitoba, The Wailin' Jennys have grown over the years into one of today's most beloved international folk acts. Founding members Moody and Mehta along with New York-based Masse continue to create some of the most exciting music on the folk-roots scene, stepping up their musical game with each critically lauded recording and thrilling audiences with their renowned live performances.
In 2004, The Wailin' Jennys released their first full-length album 40 Days to great critical acclaim, netting a 2005 Juno Award (Canadian Grammy) for Roots & Traditional Album of the Year. Bolstered by their frequent appearances on Garrison Keillor's public radio show A Prairie Home Companion, The Jennys exploded onto the roots music scene, performing at packed venues across the Canada, the U.S. and throughout the world. The Jennys' sophomore album, 2006's Firecracker, served as a powerful follow-up to their career-making debut. Artistically, the record found The Jennys stepping out of the folk realm and into the world of alt-country, pop and rock. Garnering much attention, it was nominated for a Juno Award and won a 2007 Folk Alliance Award for Contemporary Release of the Year. Firecracker had legs, spending over 56 weeks on the Billboard charts.
The trio's 2009 release, Live at Mauch Chunk Opera House, also spent over a year on the Billboard bluegrass charts. That landmark live album bottled the lightning of The Jennys' live performances with show-stopping harmonies, impressive instrumental prowess, breathtaking songs and, of course, witty stage banter. For their latest album, 2011's Juno-winning Bright Morning Stars, The Wailin' Jennys joined the ranks of Lucinda Williams and Emmylou Harris and recorded with award-winning producer Mark Howard. Co-produced by frequent Jennys collaborator and Juno Award-nominated David Travers-Smith, the album combines fresh and innovative sounds with the band's signature harmonies — a perfect mix of Americana, pop and traditional folk that is destined to be a modern classic.
Although known primarily as an acoustic outfit, The Wailin' Jennys have a diverse musical background that has shaped their musical sensibilities. Soprano Ruth Moody (vocals, guitar, accordion, banjo, bodhrán) is a classically trained vocalist and pianist with a burgeoning solo career. She made a splash in 2010 with the Juno-nominated The Garden which was followed up with 2013's gorgeous These Wilder Things. She's an accomplished, versatile singer of traditional and Celtic music and as the former lead singer of Juno-nominated roots band Scruj MacDuhk. Mezzo Nicky Mehta (vocals, guitar, harmonica, drums, ukulele), a classically trained dancer raised on '70s a.m. radio and heavily influenced by alternative pop, was nominated for a Canadian Indie Music Award for her striking debut solo album, 2002's Weather Vane. In July 2009 she became the proud mother to twin boys, Beck and Finn. Alto Heather Masse (vocals, upright bass) is a Jazz Voice graduate of the New England Conservatory of Music, who has performed in Mark O'Connor's Hot Swing, Darol Anger's Republic of Strings and is a regular guest on A Prairie Home Companion. She has also toured with her own band, supporting her 2009 Red House release Bird Song. Her latest, 2013's Lock My Heart, is is an inspired album of jazz standards and originals with legendary pianist Dick Hyman.
With their varying backgrounds, each of the Jennys is unique in their individual expression. Together they forge a unified folk-pop sound — all delivered with the irresistible vocal power of three.
A MESSAGE FROM THE WAILIN' JENNYS
To help keep each other healthy, the Jennys are requiring all patrons to present either proof of a negative covid test administered within 72 hours prior to the event -or- proof of full vaccination to attend this show. It is required that all patrons wear a mask regardless of vaccination status while in the venue.
Presented by The Flying Monkey
ADDRESS
39 Main St
Plymouth, NH 03264
EVENT INFORMATION
Phone: 603-536-2551
TICKET INFORMATION
Phone: 603-536-2551