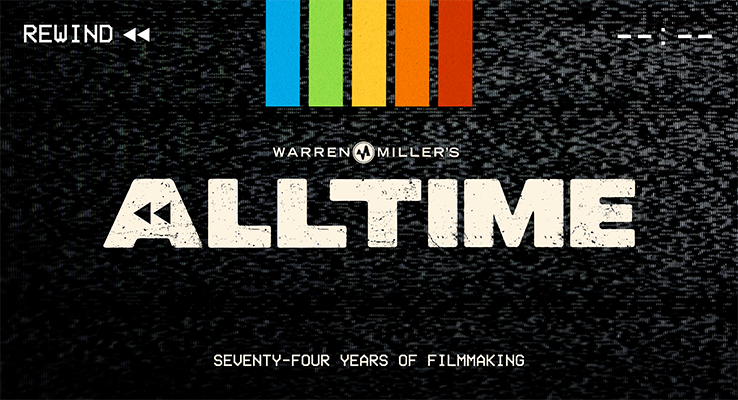 WARREN MILLER'S ALL TIME 3PM
Doors: 2:30PM Film: 3:00 Rated: All Ages


Ticket offer with movie ticket purchase*:
• Waterville Valley, buy one get one free for mid week
• Tenney Mountain, Free any day, no black out dates
• Whaleback Mountain, Free any day, no black out dates
Headed into its 75th anniversary, Warren Miller Entertainment announces a two-year film celebration starting with its 74th film, "ALL TIME."
Narrated by and featuring Jonny Moseley, ALL TIME dives deep into the stuff of which snowy dreams are made. From the evolution of mountain culture and the birth of ski towns to icons and innovators like the original hotdoggers, ALL TIME is a celebration of the past seven decades that defined winter sports. The film also weaves in new footage shot on location at Palisades Tahoe, California, and Park City, Utah.
ALL TIME isn't a greatest hits collection. It's a film experience reimagining the moments that got us to where we are today, the compelling people, and the outlandish locations in the history of skiing and snowboarding. It's a nod to the legacy of Warren Miller and a glimpse into where the sport will go next.
The film features iconic athletes like Glen Plake, Scot Schmidt, and the Egan Brothers along with those from more recent Warren Miller films including Michelle Parker, Marcus Caston, Seth Wescott, Madison Ostergren, Mckenna Peterson, Lexi duPont, Simon Hillis, Kaylin Richardson, Wendy Fisher and many more.
Featuring new footage, humor, and inspiration, ALL TIME highlights Maine's finest athlete—social media personality Donny Pelletier. Donny reminds us not to take ourselves too seriously as he stands off with industry pros Daron Rahlves, JT Holmes, Amie Engerbretson, and Connery Lundin. Finally, the 74th film introduces the next generation of skiers and riders at Woodward Park City, including athletes Brian Rice, Tristen Feinberg, Cass Jarrell, Steve Stepp, and more.
This year, Warren Miller film tour attendees will have the chance to vote on three film finalists from the Outside Awards at the show. For its inaugural season, the winter-focused photo and film competition sought out emerging voices in the snowsports world. Attendees will help determine who will take home $10,000 as the People's Choice grand-prize winner.
*Please Note: You must be present at the event to claim the lift ticket offer
Hosted by NH Ski Star Dan Egan
Presented by The Flying Monkey
39 Main St
Plymouth, NH 03264
Event Information
Phone: 603-536-2551