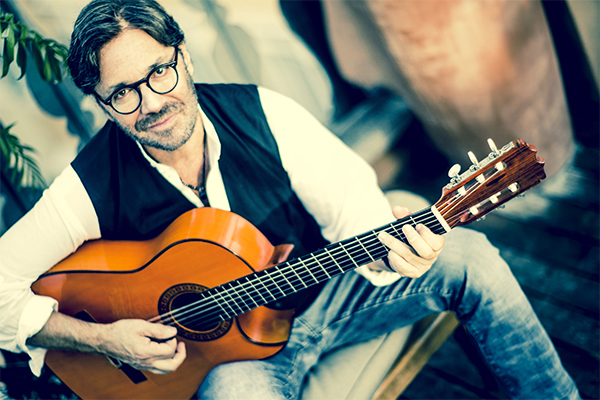 AL DI MEOLA
DOORS: 6:00PM     SHOW: 7:30     AGES: 13+
Al Di Meola's ongoing fascination with complex rhythmic syncopation combined with provocative lyrical melodies and sophisticated harmony has been at the heart of his music throughout a celebrated career that has spanned four decades and earned him critical accolades, three gold albums and more than six million in record sales worldwide. A bona fide guitar hero, perennial poll-winner, and prolific composer, he has amassed over 20 albums as a leader while collaborating on a dozen or so others with the likes of the fusion supergroup Return to Forever (with Chick Corea, Stanley Clarke and Lenny White), the celebrated acoustic Guitar Trio featuring fellow virtuosos John McLaughlin and Paco de Lucia, and the Rite of Strings trio with bassist Clarke and violinist Jean-Luc Ponty. And while his dazzling technique on both acoustic and electric guitars has afforded him regal status among the hordes of fretboard fanatics who regularly flock to his concerts, the depth of Di Meola's writing along with the soulfulness and the inherent lyricism of his guitaristic expression have won him legions of fans worldwide beyond the guitar aficionado set.
A pioneer of blending world music and jazz, going back to early Latin-tinged fusion outings like 1976's Land of the Midnight Sun, 1977's Elegant Gypsy and 1978's Casino, the guitar great continues to explore the rich influence of flamenco, tango, Middle Eastern, Brazilian and African music with his World Sinfonia, an ambitious pan-global group that he formed in 1991. Their exhilarating world music fusion has been documented on such releases as 2000's The Grande Passion (featuring the Toronto Symphony Orchestra), 2007's Live in London, 2011's Pursuit of Radical Rhapsody and the stunning 2012 DVD, Morocco Fantasia (recorded at the Mawazine Festival in Rabat, Morocco and featuring special guests Said Chraibi on oud, Abdellah Meri on violin and Tari Ben Ali on percussion).
During a 40-plus year career marked by hugely influential recordings and worldwide tours, Di Meola has regenerated the jazz idiom three times over while dedicating himself to his art. And at age 62, this guitar hero seems inspired to begin a new chapter in his career with the release of Elysium.
VIP Meet & Greet Add-On ($50) Includes:
– Pre-show soundcheck experience with Al Di Meola
– Merch signing (up to two items), as well as an addition CD signed by Al Di Meola
– Photo opportunity with Al Di Meola
– Priority access to merchandise booth prior to doors opening to general public
Please note: Package is designed and managed by artist.
Presented by The Flying Monkey
ADDRESS
39 Main St
Plymouth, NH 03264
EVENT INFORMATION
Phone: 603-536-2551
TICKET INFORMATION
Phone: 603-536-2551