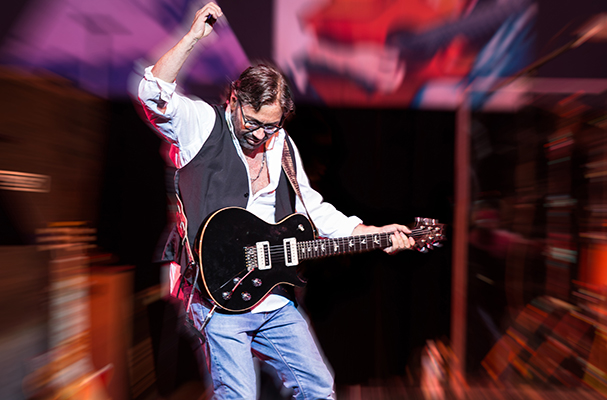 To Be Rescheduled: AL DI MEOLA – The Electric Years
DOORS: 6:00PM     SHOW: 7:30     AGES: 13+

Dear Valued Fans and Ticket Holders,

We regret to inform you that Al Di Meola has encountered an unforeseen medical emergency that requires him to postpone all scheduled shows for the year 2023. Al Di Meola is currently receiving the necessary medical attention, and will make a full recovery.

Al Di Meola, along with his team, deeply appreciates the support and understanding of his fans during this challenging time. He is eager to return to the stage and share his music with you all once again. Therefore, we are excited to announce that Al Di Meola is planning to reschedule these shows and looks forward to being back in action in 2024.

For all ticket holders, please hold on to your tickets. We will keep you posted with updates regarding rescheduled dates and further details. Your existing tickets will remain valid for the rescheduled shows, and you will be among the first to know when the new dates are confirmed.

We thank you for your understanding and continued support. Al Di Meola and his team are committed to delivering outstanding performances in the near future. Please stay tuned for updates on his recovery and the rescheduled tour dates.

Wishing Al Di Meola a swift and full recovery.

"The Guitar Event of the Year"
Al Di Meola – The Electric Years

Al Di Meola, a bonafide living Guitar Legend inducted into the Gallery of Greats is among the top guitarists of our time. His ongoing fascination with complex rhythmic syncopation combined with provocative lyrical melodies and sophisticated harmony has been at the heart of his music throughout a celebrated career that has spanned four decades and earned him critical accolades, four gold albums, two platinum albums, more than six million in record sales worldwide, five German gold albums, and various awards including an Honorary Doctorate Degree from Berklee College of Music, the Honorary Miles Davis Award presented by the Montreal Jazz Festival, a BBC Lifetime Achievement Award presented by Sir George Martin in 2008, Hungarian Foundation for Performing Arts Lyra Award, and numerous Grammy nominations and awards. Al is the recipient of the most prestigious guitar awards ever given, a total of 12 awards from Guitar Player Magazine polls and as a result, was inducted into their Gallery of Greats.

Not only a guitar hero, but a prolific composer, he has amassed over 30 albums as a leader while collaborating on a dozen or so others with the likes of the fusion supergroup Return to Forever(with Chick Corea, Stanley Clarke and Lenny White), the celebrated acoustic Guitar Trio featuring fellow virtuosos John McLaughlin and Paco de Lucia, and the Rite of Strings trio with bassist Clarke and violinist Jean-Luc Ponty. And while his dazzling technique on both acoustic and electric guitars has afforded him regal status among the hordes of fretboard fanatics who regularly flock to his concerts, the depth of Di Meola's writing along with the soulfulness and the inherent lyricism of his guitaristic expression have won him legions of fans worldwide beyond the guitar aficionado set.

A pioneer of blending world music and jazz, going back to early Latin-tinged fusion outings like1976's Land of the Midnight Sun, 1977's Elegant Gypsy and 1978's Casino, the guitar great continues to explore the rich influence of flamenco, tango, Middle Eastern, Brazilian and African music with his World Sinfonia, an ambitious pan-global group that he formed in 1991. Their exhilarating world music fusion has been documented on such releases as 2000's The Grande Passion (featuring the Toronto Symphony Orchestra), 2007's Live in London, 2011's Pursuit of Radical Rhapsody and the stunning 2012 DVD, Morocco Fantasia (recorded at the Mawazine Festival in Rabat, Morocco and featuring special guests Said Chraibi on oud, Abdellah Meri onviolin and Tari Ben Ali on percussion).

Growing up in Bergenfield, NJ with the music of The Ventures and The Beatles, Di Meola naturally gravitated to guitar as a youngster and by his early teens was already anaccomplished player. Attaining such impressive skills at such a young age didn't come easy for Al, but rather was the result of focused dedication and intensive periods of woodsheddingbetween his junior and senior years in high school. "I used to practice the guitar all night after school and once in college, 6 – 8 hours per day" he told Down Beat. "And I was trying to find myself, or find the kind of music that suited where I was going with the guitar."
VIP MEET & GREET UPGRADE:
• Join Al Di Meola for a Pre-Show Meet & Greet to be held during sound check
• $75 each
• Limited Availability

Presented by The Flying Monkey
ADDRESS
39 Main St
Plymouth, NH 03264
EVENT INFORMATION
Phone: 603-536-2551
TICKET INFORMATION
Phone: 603-536-2551