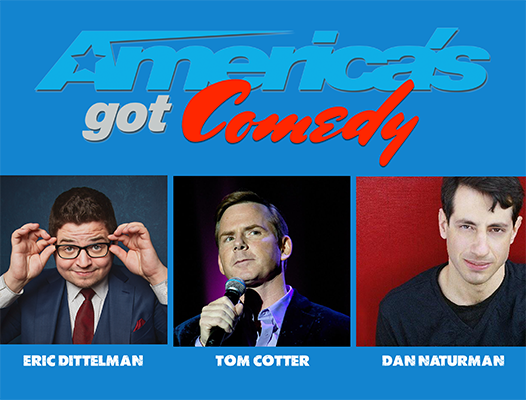 AMERICA'S GOT COMEDY – Eric Dittelman, Tom Cotter, and Dan Naturman
DOORS: 6:00PM     SHOW: 7:30     AGES: 18+

ERIC DITTELMAN
Eric Dittelman has been entertaining audiences at colleges, comedy clubs, theaters, and private events with his unique blend of mind reading and stand-up and improvisational comedy. Eric first made a splash when appeared on season 7 NBC's "America's Got Talent" advanced to the semi-finals amazing judges Howard Stern, Howie Mandel and Sharon Osbourne. Eric has also made headlines as a guest on "Ellen," and recently "Live with Kelly and Ryan" and "Penn and Teller's: Fool Us." Eric's unique blend of mind reading, stand-up comedy, and improv comedy (honed by years of study with the famed Second City Improv Company and Improv Boston) has been the perfect recipe for his success performing live on stage and on TV. He reveals your thoughts, influences your decisions, and makes you laugh while leaving you in awe and amazed at what you just witnessed. Eric performs a full evening stage show packed with entertainment, audience interaction, comedy and surprises that audiences never forget!
TOM COTTER
Tom Cotter is one of the funniest comedians in the world! Even before his historic finish on NBC'S America's Got Talent (he lost to a dog), Tom was entertaining audiences across the United States, and internationally! He's performed in London and on British TV, has won the Seattle International Comedy Competition, was voted "Best Stand-Up" at The Las Vegas Comedy Festival, and won the grand prize at The Boston Comedy Festival. Some of Tom's many television and radio credits include: The Tonight Show, Last Comic Standing, numerous "Comedy Central Presents… Tom Cotter" specials, Comics Unleashed, CBS' The Late Late Show, Celebrity Host of Gotham Comedy Live on AXS-TV, and The Howard Stern Show. Tom headlines all of America's most famous comedy clubs including: The Comedy Cellar, The Improvs, and Caroline's On Broadway, just to name a few. He has performed at the Just For Laughs Comedy Festival in Montreal, the HBO Comedy Arts Festival, and he was the headliner for the America's Got Talent Live show in Las Vegas. Tom is constantly a sought-after talent! Known for his sarcasm, satire, and word play, there's never a dull moment when Tom Cotter is on stage!

DAN NATURMAN
Dan Naturman started performing stand-up comedy while at Fordham University Law School. After graduating, he abandoned law and became a full-time comedian. Dan has made many TV appearances including: The Late Show with David Letterman, Conan, The Late Late Show, and The Tonight Show, to name just a few. He has his own "Comedy Central Presents…"special and was a spotlighted contestant on NBC's "America's Got Talent". Dan also had a recurring role on HBO's Crashing, was a favorite on NBC's Last Comic Standing, and has appeared on Comedy Central's This Week at The Comedy Cellar multiple times. In 2020, on one of the most talked about sets of the season, Dan received a STANDING OVATION on America's Got Talent – The Champions. Dan's charming combination of self-deprecation and outright grouchiness keeps audiences roaring with laughter from coast to coast!
Presented by The Flying Monkey
ADDRESS
39 Main St
Plymouth, NH 03264
EVENT INFORMATION
Phone: 603-536-2551
TICKET INFORMATION
Phone: 603-536-2551