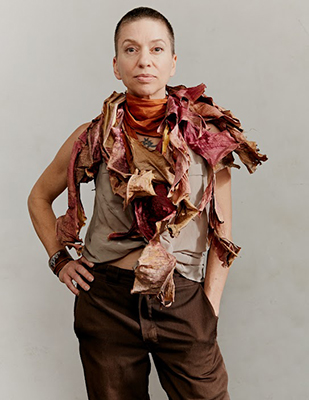 Sold Out – ANI DiFRANCO w/ The Righteous Babes Revue: Gracie and Rachel, Jocelyn Mackenzie, Holly Miranda
SOLD OUT!
DOORS: 6:00PM     SHOW: 7:30     AGES: 13+
ANI DiFRANCO
Widely considered a feminist icon, Grammy winner Ani DiFranco is the mother of the DIY movement, being one of the first artists to create her own record label in 1990. While she has been known as the "Little Folksinger," her music has embraced punk, funk, hip hop, jazz, soul, electronica and even more distant sounds. Her collaborators have included everyone from Utah Phillips to legendary R&B saxophonist Maceo Parker to Prince. She has shared stages with Bob Dylan, Bruce Springsteen, Pete Seeger, Kris Kristofferson, Bon Iver, Brand Carlile, Billy Bragg, Michael Franti, Chuck D., and many more. Her most recent albums include 2021's Revolutionary Love and the July 2022 25th Anniversary Edition reissue of her iconic live album Living In Clip, both on her own label Righteous Babe Records. Her memoir No Walls and the Recurring Dream was released in May 2019 by Viking Books, and was a New York Times Top 10 best seller.
Rejecting the major label system has given her significant creative freedom. She has referenced her staunchly-held independence in song more than once, including in "The Million You Never Made" (Not a Pretty Girl), which discusses the act of turning down a lucrative contract, "The Next Big Thing" (Not So Soft), which describes an imagined meeting with a label head-hunter who evaluates the singer based on her looks, and "Napoleon" (Dilate), which sympathizes sarcastically with an unnamed friend who did sign with a label. After recording with Ani in 1999, Prince described the effects of her independence. "We jammed for four hours and she danced the whole time. We had to quit because she wore us out. After being with her, it dawned on me why she's like that – she's never had a ceiling over her." Her lyrics are rhythmic and poetic, often autobiographical, and strongly political. "Trickle Down" discusses racism and gentrification, while "To The Teeth" speaks about the need for gun control, and "In or Out" questions society's traditional sexuality labels. "Play God" has become a battle cry for reproductive rights while "Revolutionary Love" calls for compassion to be the center of social movements. Rolling Stone said of her in 2012, "The world needs more radicals like Ani DiFranco: wry, sexy, as committed to beauty and joy as revolution."
w/ special guests The Righteous Babes Revue: Gracie and Rachel, Jocelyn Mackenzie, Holly Miranda
Righteous Babe artists Gracie and Rachel, Jocelyn Mackenzie, and Holly Miranda unite for a special ensemble performance collaborating on one another's songs arranged specifically for this tour with Ani.

GRACIE AND RACHEL
The Brooklyn-based duo Gracie and Rachel has emerged as a formidable force in challenging the boundaries of pop music. Blending baroque elements, ethereal sonic-scapes, and penetrating vulnerability, the duo creates an emotionally haunting sound all their own. Their sophomore album, Hello Weakness, You Make Me Strong, released on Righteous Babe Records, explores the depths of their emotional states and the walls we build up inside ourselves. It's music to excavate our inner fears and help us find empowerment from within. Seen on stages opening for Tori Amos, Ani DiFranco, Julien Baker, San Fermin and more, the collaborative duo of keyboardist, Gracie Coates, and violinist, Rachel Ruggles, have performed two NPR Tiny Desk Concerts and been praised by the outlet's Bob Boilen to "mix pop and classical in stark, infectious ways and make unforgettable, surprising music." Look out for new music and more touring later this year.

JOCELYN MACKENZIE
With a shape-shifting sound that is at once personal and universal, Jocelyn Mackenzie creates intimate pop songs for a generation of seekers. She is a Brooklyn-based musician, maker, and psychic medium, best known as the singing drummer from Brooklyn's indie-pop trio Pearl and the Beard. She released her debut solo album PUSH on Righteous Babe Records in early 2021, which American Songwriter calls "unique and infectious." PUSH was arranged entirely for string quartet and includes compositions from an all-star team of composers including Franz Nicolay (The Hold Steady), Adam Schatz (Japanese Breakfast, Sylvan Esso), and Emily Hope Price (Pearl and the Beard, Kishi Bashi). Her music, which Under the Radar describes as "spirited, powerful, [and] jubilant," has been heard in commercials, film, theater, and television. At her core, Mackenzie's extra-sensory skills inform her creative expressions, integrating media and meaning to create a sound that is both sensual and personal, "at once timeless and very much necessary in this moment." (Popdust)

HOLLY MIRANDA
Holly Miranda grew up between Detroit and Nashville, two music towns that would influence her own journey in a very profound way. She began playing piano at the age of six, taught herself guitar at fourteen and moved to New York at sixteen to start her professional career. For over twenty years, Holly has been performing, writing and producing with some of the best talent in the business. She has performed with the likes of Karen O, Lou Reed, The XX, and Lesley Gore. She released two records with her band The Jealous Girlfriends and has co- written and produced a mass of other projects. In 2021, Miranda and her long time collaborator, Ambrosia Parsley (Shivaree), started a co- operative record label called Eye Knee Records. The phonetical spelling of "Ayni"; a way of living by reciprocity. For every ten releases they donate 100% of the proceeds to a charity that benefits the communities of Earth. They have released twenty-one singles and a collection of sound installations Holly wrote for a sculpture garden in Pamplona, Spain (Un Bosque). Each single is accompanied by a music video and a story, the readers digest of record labels if you will.
Presented by The Flying Monkey
ADDRESS
39 Main St
Plymouth, NH 03264
EVENT INFORMATION
Phone: 603-536-2551
TICKET INFORMATION
Phone: 603-536-2551