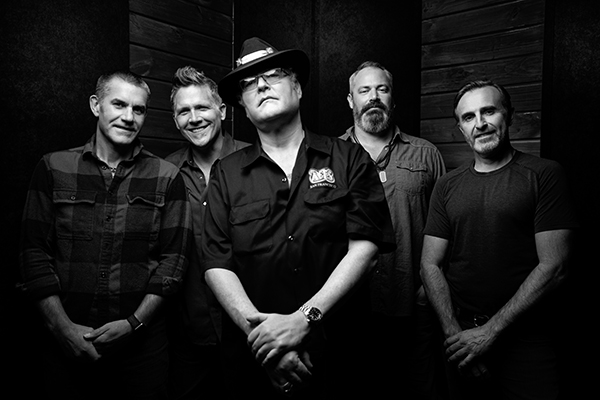 BLUES TRAVELER
with support act Vanessa Collier

DOORS: 6:00PM SHOW: 7:30 AGES: 13+

The Six-Time, Platinum Rockers Will Perform The Hits That Defined Their 36-Year Career Including Songs From Their Latest Grammy®-Nominated Album, Travelers Blue's

On the heels of their successful 2022 35thAnniversary Tour, seminal six-time Platinum rockers Blues Traveler have announced a series of 2023 shows to coincide with the impending release of their Live and Acoustic: Fall of 1997limited edition, double EP (Spring 2023).

During the shows, the band will perform a bevy of songs spanning more than three decades and 14 hit albums –including the iconic four, which went six-times Platinum and spawned the definitive "Run-Around" (garnering their first Grammy®Award).

Audiences can also expect to hear the band's Billboard-topping smash singles like "Hook" and "But Anyway," as well as their new, jam-infused renditions of some of their favorite classic blues songs, originally recorded by artists such as Aretha Franklin, Freddie King, Big Mama Thornton, and Little Willie John.

Dave Wakeling once told me that every great band only has three really good albums. And true to form, The Beat decided to call it quits after their third album, Special Beat Service. Of course, that was not the last we would hear from the Beat boys.

Blues Traveler will also be promoting their forthcoming spring 2023 release of Live and Acoustic: Fall of 1997, which is a selection of highlights from the ensemble's legendary tour 25-years-ago. The 25th-anniversary limited edition double LP will include unreleased,remastered material from the initial two-track soundboard recordings. Amongst the tracks on the upcoming drop are fan favorites and some of the band's best-known material like "Run-Around," "But Anyway" and "The Mountains Win Again," interspersed with several deep cuts.

"This EXCLUSIVE limited-edition double LP is a selection of many of the highlights from our legendary 1997 fall tour that produced the only acoustic sets that the original line up of Blues Traveler, including our beloved friend and bassist, Bobby Sheehan ever played on tour," said Guitarist Chan Kinchla. "These previously unheard and uncirculated tracks are remastered from the original 2-track soundboard recordings for the ultimate Blues Traveler live and acoustic experience."

The tour that spawned the album came after the success of Blues Traveler's October 1997 performance at Neil Young's Bridge School benefit, where the band delivered two entirely acoustic shows. Inspired by the magic they created, the group integrated mini acoustic sets between their first and second electric frames during their 1997 Fall tour.

VANESSA COLLIER
"There's a young lady [Vanessa Collier] came onstage with me, I forget where I was, but she's playing an alto saxophone, and man, she was amazing."

Those are the words of Buddy Guy in a recent issue of American Blues Scene, describing an impromptu performance with Vanessa Collier on the Legendary Rhythm & Blues Cruise. If you haven't been fortunate enough to meet Vanessa and witness one of her head-turning, fiery, and passionate performances, you should definitely make sure you do. As a master musician and multi-instrumentalist, Vanessa Collier, weaves funk, soul, rock, and blues into every powerful performance and she is downright impressive. With soulful vocals, searing saxophone, and witty songwriting, Vanessa is blazing a trail, racking up an impressive arsenal of honours, and has already singled herself out as an artist of distinction and one we would all do well to watch.

It's not simply the accolades she has accumulated so far, although they've been many — two Blues Music Awards for "Horn Player of the Year", and a third BMA for "Contemporary Blues Female Artist of the Year", eight Blues Music Award Nominations (BMAs), a Blues Blast Award nomination, the Jammingest Pro Award bestowed by the Legendary Rhythm & Blues Cruise,First Place for lyrics in the International Songwriting Competition, Best of 2014 Blues Breaker on Dan Aykroyd's Blues Mobile — it's the fact that she has accumulated all these honours even while her career is still in its infancy. A 2013 graduate of the prestigious Berklee College of Music, she's toured nationally and internationally, released four critically acclaimed albums(2014's Heart, Soul & Saxophone, 2017's Meeting My Shadow, and 2018's Honey Up, 2020'sHeart On The Line. Honey Up spent 9 weeks atop the Billboard Blues Album Charts Top 15, 3months on the Living Blues Charts at #10 and #23, and continues to be spun on Sirius XM's B.B. King's Bluesville radio station

Presented by The Flying Monkey
ADDRESS
39 Main St
Plymouth, NH 03264
EVENT INFORMATION
Phone: 603-536-2551
TICKET INFORMATION
Phone: 603-536-2551