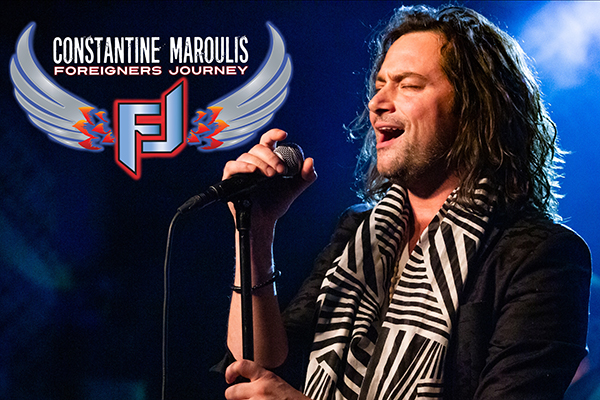 FOREIGNERS JOURNEY featuring Constantine Maroulis
DOORS: 6:00PM SHOW: 7:30 AGES: 13+
Almost any music fan who came of age in the 1980s will cite Foreigner and Journey as bands that sound tracked their young life, bands that are forever lodged in their mind. Back then, the two acts might have been separated by an ocean, but together they helped define the "magic era" of classic rock.
At one point not too long ago, they toured the world as a one-two combination, but don't count on it happening again. Luckily, you can count on Foreigners Journey, a veritable tribute-band supergroup, to deliver the unforgettable experience of seeing both bands in one knockout show.
Foreigners Journey comprises veteran members of the music scene, guys who've made it with their own original music. But since 2014 they've also dedicated themselves to something larger, a supergroup intent on bringing the sounds, sights, and emotional thrills of two of rock 'n' roll's greatest bands to eager fans around the Northeast and beyond.
Featuring 2X Tony Nominated Star of Broadway's Rock of Ages and American Idol fame, Constantine Maroulis on Lead Vocals. Keyboardist Paul Kochanski, Bassist Joe Pettengill and Drummer Art Mambuca (and his sprawling double kick-drum kit) all played together in the Journey tribute band Captured. And, rounding out the band is hotshot Guitarist Kevin Herrera and Adam Tese on Saxophone.
Their repertoire of classics hits by Foreigner and Journey provides a crowd-pleasing night of unforgettable music. Not only heightened to new face melting levels with the addition of Constantine, expect smoldering sexiness, dancers, production and "Rock Of Ages" mash ups that will take you right back to the Sunset Strip!! In addition, Foreigners Journey plans to unleash some of Constantine's critically acclaimed original material on sold out audiences nationally.
From power ballads like "Waiting for a Girl Like You," "I Want to Know What Love Is," and "Faithfully" to anthems like "Hot Blooded," "Stone In Love," "Cold As Ice," "Don't Stop Believin'," and "Separate Ways," Foreigners Journey are more than a tribute band. They're a time machine, and their energy is infectious.
Presented by The Flying Monkey
ADDRESS
39 Main St
Plymouth, NH 03264
EVENT INFORMATION
Phone: 603-536-2551
TICKET INFORMATION
Phone: 603-536-2551