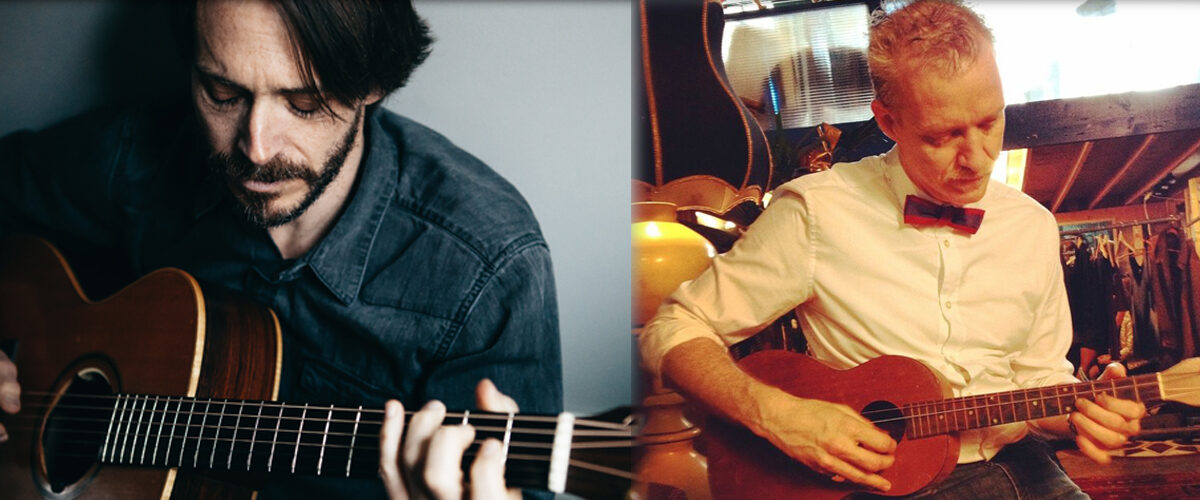 GLEN PHILLIPS and CHRIS BARRON
DOORS: 6:00PM SHOW: 7:30 AGES: 13+
Glen Phillips (Toad the Wet Sprocket) & Chris Barron (Spin Doctors) perform an intimate live show in Plymouth, NH!
Glen Phillips has always been a courageous and inviting songwriter. During his years as lead singer of Toad the Wet Sprocket, the band's elegant folk/pop sound and his honest, introspective lyrics helped them forge a close bond with their fans. Since starting his solo career, Phillips has pared his music down to its emotional core, concentrating on the simple truths of love and relationships, with a profound spiritual understanding.
Swallowed by the New takes on life's difficult transitions and delivers some of the Phillips' most vulnerable songs. "I made this album during the dissolution of a 23 year marriage, Phillips says. "A major chapter of my life was coming to a close, and I discovered early on that I had to work hard to get through the transition with compassion and clarity. These songs were a big part of that process."
Phillips started Toad the Wet Sprocket in 1986, when he was still in high school. He was as surprised as anyone when their low-key folk rock landed them on the pop charts. When the band members decided to go their separate ways, Phillips began a solo career with Abulum followed by Winter Pays for Summer, Mr. Lemons and Secrets of the New Explorers. Always open to new projects and unlikely collaborations, he's toured and recorded with Works Progress Administration, a band that included members of Nickel Creek, Tom Petty and the Heartbreakers and Elvis Costello's Attractions; Mutual Admiration Society with Nickel Creek; Remote Tree Children, an experimental project with John Askew and Plover, with Neilson Hubbard and Garrison Starr. "
The zeitgeist is a moving target, and Chris Barron has always been a crack shot. The New York songwriter is no longer the debutant who set out on the circuit's sharp end in 1988 with $100, a battered acoustic and a headful of the alt-rock anthems that would elevate Spin Doctors to global stardom. He's a veteran approaching 50, living in a world changed beyond recognition, compelled to write the music that chronicles the here-and-now. As far back as he can remember, he's had a hunger driving him onward, towards something just out of reach. In 2017, it propels him to Angels and One-Armed Jugglers (released October 20 on Chrysanthemum Records), the culmination of a lifetime's craft and a record both contemporary and classic.
Ask Barron for a pivotal moment from his journey and he'll rewind the reels to a high-school music theory class, where a cherished teacher advised him to "learn the rules so that you can break them." Almost four decades later, that same irreverent wisdom hangs over Angels and One-Armed Jugglers. In a cynical era of songwriting by committee, these eleven songs rip up the verse/chorus template, eschew the stock lyrical themes and crash thrillingly among genres, as this fascinating songwriter acts entirely on instinct. "I've taken stock of everything I've learned about music," says Barron, "and I've got to a point now where I'm just following my nose. These songs range from old jazz standards to funky beer-hall folk tunes. But I've never really been that interested in genres. I'm just interested in songs. I think the reason it's so eclectic is because the songs were chosen more thematically than based on genre."
If the concept of Angels and One-Armed Jugglers began anywhere, it was born on the 59th Street Bridge, as Barron drove home from Queens. "I wrote that title track on the steering wheel," he reflects. "With that first line — 'Angels and one-armed jugglers, sword-swallowers and smugglers' — I was thinking about this woman who once lived next door to me, this old chorus girl. She was in her 80s at the time, always plying me with limoncello, telling me great stories about Broadway in the '40s. And I always find, if you fall in with the title early on, you start to make a record that's very thematic. But then, weirdly enough, I had a paralyzed vocal cord and I lost my voice. So I'm the one-armed juggler. Art imitates life.
Presented by The Flying Monkey
ADDRESS
39 Main St
Plymouth, NH 03264
EVENT INFORMATION
Phone: 603-536-2551
TICKET INFORMATION
Phone: 603-536-2551