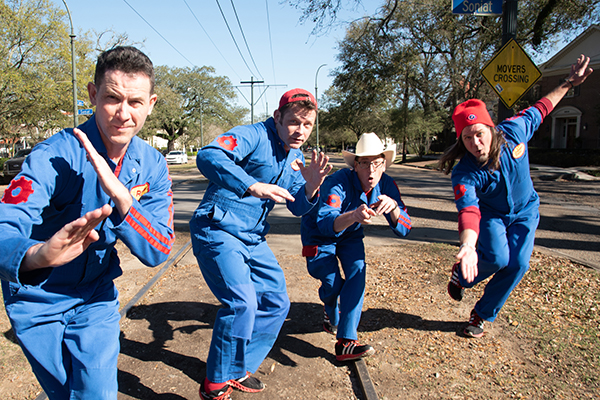 IMAGINATION MOVERS
DOORS: 1:00PM     SHOW: 2:00     AGES: All Ages

The Imagination Movers are a rock band for families and the Emmy-winning stars of a hit TV series seen worldwide on the Disney Junior channel. There are 76 episodes of Imagination Movers translated in more than 20 languages. All episodes are available on the Disney + streaming network.

The Movers celebrate their 20th Anniversary this year, having begun when four friends from New Orleans brainstormed a show highlighting quality music, positive male role models, and inspiring teamwork, problem-solving, and creativity.
The New York Times says the Movers are "prized by many parents for non-condescending lyrics and music that evokes the Beastie Boys or Red Hot Chili Peppers." Parenting magazine praises the band's "dash of rebellion" and songs that are "fresh and treacle-free."
The Movers have appeared on "The View," Good Morning America," NPR's "American Routes," and "Morning Edition" and are a fixture on SiriusXM Kids Place Live. Moreover, the Movers have written more than 250 songs. Many have been featured on commercials and TV shows, including "The Ellen DeGeneres Show," "Wipeout," and "The Today Show."
Having graced the cover of Pollstar, the Movers have performed for more than a million fans across North America, Europe, and Asia, including stops in such far-reaching locations as Dubai, Guam, and Newfoundland. They are the top-rated and best-reviewed major touring act for families, according to TicketMaster.com.
The Movers have performed at the White House for two different presidents (Bush and Obama). They are active roster members for Armed Forces Entertainment (AFE) and Morale, Welfare, and Recreation (MWR). They are National Buddy Walk Partners of the National Down Syndrome Society (NDSS).
Bowing in 2018, a leisure Louisiana tourism campaign entitled "Just Imagine," featuring omnidirectional marketing, spotlighted the Movers as spokespeople and brand ambassadors.
The Movers released the EP Happy To Be Here in 2021, which promptly entered the Top 10 on Billboard Kid's Audio During the last quarter of 2022, the quirky song Watermelon Meow Meow averaged 1,000,000 streams per month, becoming their most streamed song and leading to the creation of an official video.
The band is releasing two major projects in 2023, including a compilation album and new material.
MEET & GREET ADD-ON
The Movers Meet & Greet add-on allows you to meet the band, get an autograph, and take a photo(s) with the Movers. Everyone who attends the M&G must have the add-on to participate. If there are any questions, please do not hesitate to reach out to support@imaginationmovers.com or the Box Office.
Presented by The Flying Monkey
ADDRESS
39 Main St
Plymouth, NH 03264
EVENT INFORMATION
Phone: 603-536-2551
TICKET INFORMATION
Phone: 603-536-2551