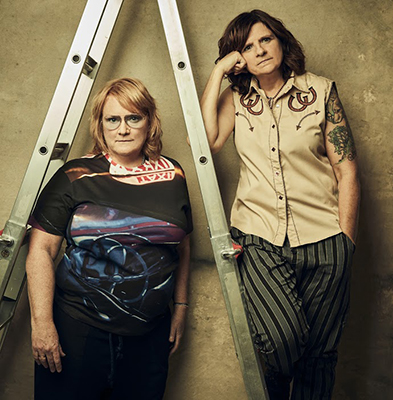 INDIGO GIRLS
SOLD OUT!
with support act Della Mae
DOORS: 6:00PM     SHOW: 7:30     AGES: All Ages
Released in 1989, Indigo Girls' eponymous major label debut sold over two million copies under the power of singles "Closer to Fine" and "Kid Fears" and turned Indigo Girls into one of the most successful folk duos in history. Over a thirty-five-year career that began in clubs around their native Atlanta, Georgia, the multi-Grammy-winning duo has recorded sixteen studio albums, sold over 15 million records, and built a dedicated, enduring following across the globe. Rolling Stone describes them as the "ideal duet partners." Committed and uncompromising activists, they work on issues like immigration reform (El Refugio), LGBTQ advocacy, education (Imagination Library), death penalty reform, and Native American rights. They are co-founders of Honor the Earth, a non-profit dedicated to the survival of sustainable Native communities, Indigenous environmental justice, and green energy solutions. Their latest record, Look Long is a stirring and eclectic collection of songs that finds the duo of Amy Ray and Emily Saliers reunited in the studio with their strongest backing band to date. "We joke about being old, but what is old when it comes to music? We're still a bar band at heart," says Saliers. "While our lyrics and writing approach may change, our passion for music feels the same as it did when we were 25-years-old." "As time has gone on, our audience has become more expansive and diverse, giving me a sense of joy," she adds. To hear those collective voices raise into one, singing along and overpowering the band itself, one realizes the importance Indigo Girls' music has in this moment. In our often-terrifying present, we are all in search of a daily refuge, a stolen hour or two, to engage with something that brings us joy, perspective, or maybe just calm. As one bar band once put it, "We go to the doctor, we go to the mountains…we go to the Bible, we go through the work out." For millions, they go to Indigo Girls. On Look Long they'll find a creative partnership certain of its bearings, forging a way forward.
Della Mae
Della Mae is a GRAMMY-nominated all-woman string band founded by lead vocalist/guitarist Celia Woodsmith and 2-time Grand National champion fiddle player Kimber Ludiker. Rounding out the current touring lineup are guitarist Avril Smith, and bassist Vickie Vaughn.
Hailing from across North America, and reared in diverse musical styles, Della Mae is one of the most charismatic and engaging roots bands touring today. They have traveled to over 30 countries spreading peace and understanding through music. Their mission as a band is to showcase top female musicians, and to improve opportunities for women and girls through advocacy, mentorship, programming, and performance.
Following up 2020's Headlight, their new album Family Reunion features founding members Celia Woodsmith, and Kimber Ludiker as well as Avril Smith, Maddie Witler and Vickie Vaughn. The recording captures the joy of the band reuniting after more than a year of virtual collaboration, Zooms and group texts.
Presented by The Flying Monkey
ADDRESS
39 Main St
Plymouth, NH 03264
EVENT INFORMATION
Phone: 603-536-2551
TICKET INFORMATION
Phone: 603-536-2551