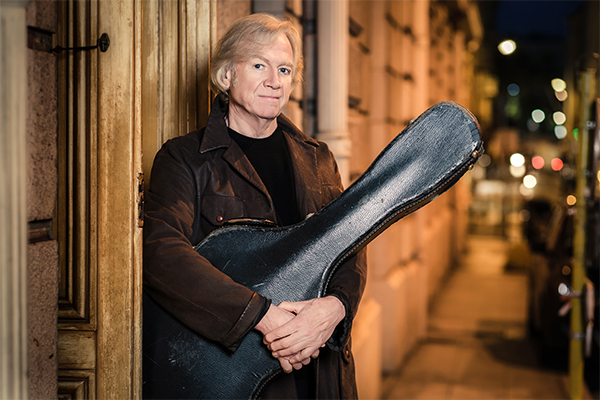 JUSTIN HAYWARD
DOORS: 6:00PM     SHOW: 7:30     AGES: 13+
One of the most recognizable voices in rock, Justin Hayward will be performing solo hits as well of a collection of his songs with the Moody Blues, 2018 inductees to the legendary Rock & Roll Hall of Fame. In recent years, The Moody Blues released 'Days Of Future Passed Live' and an expanded 50th anniversary edition of 'In Search of the Lost Chord', both through Universal Records.
Support on all dates will come from Mike Dawes, two-time winner of Total Guitar / MusicRadar's "Best Acoustic Guitarist in the World".
Says Justin: "I'm always so thrilled to have the opportunity to tour, particularly at this time in in my career when no one knows what the future holds. I'm bringing my 'song writing' guitars from home on the road with me, so the gigs will have the feel and sound of my music room along with the vibe I was feeling as I wrote the songs. I look forward to singing and playing new songs and old songs, particularly Forever Autumn, which I only get to perform in my solo show and also to tell the real stories behind all the songs and the events that surrounded them at the time.
It's a joy to share a stage with such wonderful young and inspiring talents as Mike Dawes (one of a new generation of brilliant young guitar masters – worth the price of admission alone) and Julie Ragins, a truly exceptional musician and singer. She and I have shared stages all over the world for many years, loving the music we play, both with the Moody Blues and solo. I look forward to seeing you on the road".
VIP Package Available
Note: VIP packages are done through the artist
• Autographed Justin Hayward Poster
• *Exclusive Merchandise – T-shirt, other items TBD
*Merchandise items subject to change.
Presented by The Flying Monkey
ADDRESS
39 Main St
Plymouth, NH 03264
EVENT INFORMATION
Phone: 603-536-2551
TICKET INFORMATION
Phone: 603-536-2551