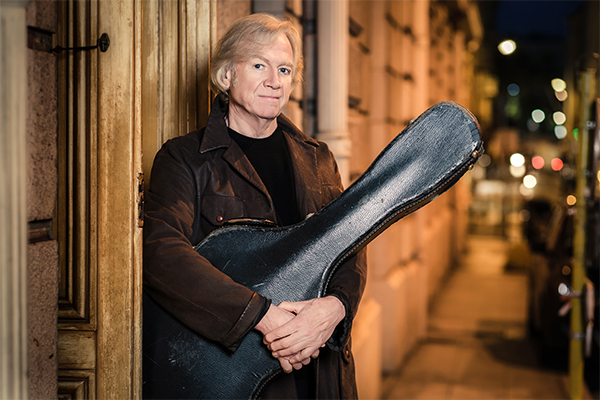 JUSTIN HAYWARD
DOORS: 6:00PM     SHOW: 7:30     AGES: 13+
Having chalked up fifty years at the peak of the music and entertainment industry, Justin Hayward's voice has been heard the world over.  Known principally as the vocalist, lead guitarist and composer for the Moody Blues, his is an enduring talent that has helped to define the times in which he worked. Over the last forty-five years the band has sold 55 million albums and received numerous awards. Commercial success has gone hand in hand with critical acclaim, The Moody Blues are renowned the world over as innovators and trail blazers who have influenced any number of fellow artists.  Justin is honoured with the Moody Blues on the Rock Walk Hall of Fame on Sunset Boulevard and the band been inducted into the Rock & Roll Hall of Fame.
Having started the ball rolling as a songwriter in his own right with a couple of solo singles, he joined the Moody Blues in the summer of 1966. Hitting his stride immediately with the single 'Fly Me High', he followed it up with the classic hit songs 'Nights in White Satin' and 'Tuesday Afternoon' from the seminal album 'Days of Future Past'. This album went on to become a favourite of the NASA astronauts and was taken aboard the Atlantis shuttle space craft by Chief astronaut "Hoot" Gibson on many missions.
In January 2018, the news broke that The Moody Blues were finally to be inducted into the Rock & Roll Hall of Fame.  This recognition comes not before time but means a great deal to the band. At the time Justin commented, "I'm extremely grateful to the Rock and Roll Hall of Fame, first for creating the supreme temple to all that has brought endless joy into my life since I was a small boy, and now, after all these years, for including us.
"I have spent most of my life, so far, on the road", says Justin. "Playing live and creating a small piece of magic in a room is like a drug to me, one that I never want to give up". His is a talent that has helped soundtrack more than a generation and created a legacy that remains undimmed.
VIP Package Available
Note: VIP packages are done through the artist
• Autographed Justin Hayward Poster
• *Exclusive Merchandise – T-shirt, other items TBD
*Merchandise items subject to change.
Presented by The Flying Monkey
ADDRESS
39 Main St
Plymouth, NH 03264
EVENT INFORMATION
Phone: 603-536-2551
TICKET INFORMATION
Phone: 603-536-2551