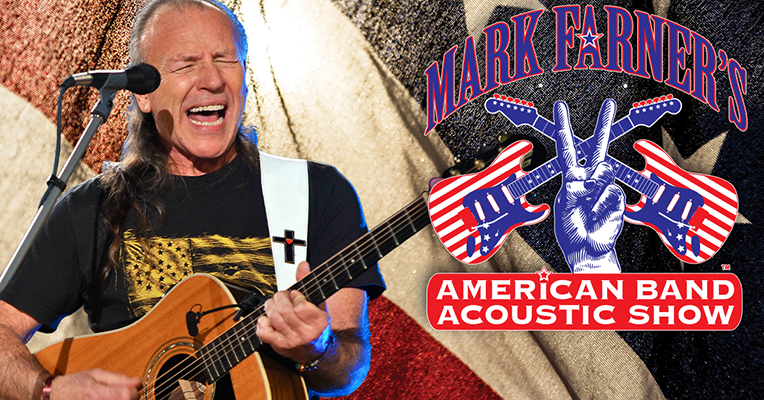 MARK FARNER'S "AMERICAN BAND"
Acoustic Trio

With Supporting Act Carlin Tripp

DOORS: 6:00PM SHOW: 7:30 AGES: 13+

As one of the founding members, lead singer, lead guitarist, and wrote 90% of the Grand Funk music catalog, Mark Farner has always been known as the energetic driving force on stage, the engine that pulled the original Grand Funk Railroad to the top of the charts. From his soulful voice and power rock riffs, to fueling the Funk with his atomic stage presence. His story and his imprint on music starts with Flint and since 1969 from his humble beginnings and a blue-collar outlook, Farner has captained a global crusade for love and freedom and became a rock 'n' roll icon.

50 years later –he commands the stage with the same intensity performing epic hits that defined a generation –"I'm Your Captain (Closer to Home)", "Bad Time", "Some Kind of Wonderful", "Foot Stompin' Music", "Heartbreaker", "Locomotion", "Mean Mistreater"and "We're An American Band".

Today,Farner's amplifying his remarkable career another full decibel selling more than 30 million records worldwide, including 16 gold and platinum albums. Mark Farner's American Band will honor Farner's golden anniversary in music, as well as shine a spotlight on his legendary contributions to society, in his2019-2020 50thAnniversary Tour.

"I am who my songs say I am," Farner said.

CARLIN TRIPP
Carlin Tripp began his musical journey in the early 2000's with a borrowed acoustic guitar and a dream of becoming a songwriter and performer. After a brief stint with a local band, Tripp hit the road with his guitar for the Southwest and began that journey, releasing his first solo work, The Belfry EP, in 2010. He has continued to write and record ever since. Born Carlin Hosmer Tripp on the small island of Nantucket, he spent the first years of his life breathing the salty air, exploring the island, and listening to records with his mom. After moving back to the mainland, he grew up in Westport, MA but always dreamed of where he could live next. He attended Northeastern University in Boston but soon transferred to the College of Santa Fe to pursue a degree in art. It was there, in the land of enchantment, that Tripp found his voice and budding style as a folk/americana songwriter. After a year or two, he grew restless and took off – living, writing and performing in places as diverse as Texas, Colorado, Prescott, Utah, Michigan, and Virginia. Tripp eventually returned to the Northeast, and in 2018, released The Shape of the Island, produced by his good friend and collaborator Jay Psaros, to critical acclaim. The album garnered the attention of Reid Genauer who invited Tripp to open for Strangefolk at the Paradise Rock Club. He is currently working remotely with producer Mickelson in California on new music to be released in 2022.

Presented by The Flying Monkey
ADDRESS
39 Main St
Plymouth, NH 03264
EVENT INFORMATION
Phone: 603-536-2551
TICKET INFORMATION
Phone: 603-536-2551