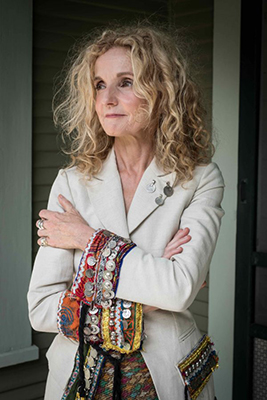 PATTY GRIFFIN
DOORS: 6:00PM     SHOW: 7:30     AGES: 13+

Patty Griffin is among the most consequential singer-songwriters of her generation, a quintessentially American artist whose wide-ranging canon incisively explores the intimate moments and universal emotions that bind us together.

Over the course of two decades, the 2x GRAMMY® Award winner – and 7x nominee – has crafted a remarkable body of work in progress that prompted the New York Times to hail her for "[writing] cameo-carved songs that create complete emotional portraits of specific people…[her] songs have independent lives that continue in your head when the music ends." 2019 saw the acclaimed release of the renowned artist's GRAMMY® Award-winning 10th studio recording, PATTY GRIFFIN, available now via her own PGM Recordings label via Thirty Tigers. One of the most deeply personal recordings of Griffin's remarkable two-decade career and first-ever eponymous LP, PATTY GRIFFIN made a top 5 debut on Billboard's "Independent Albums" chart amidst unprecedented worldwide acclaim, and later, a prestigious GRAMMY® Award for "Best Folk Album."
In addition to her creative career, Griffin has also devoted considerable energy and focus towards the wellbeing of the planet as well as showing compassion for the less fortunate among us via personal and public acts of charity. Having crafted a rich catalog that chronicles love and death, heartache and joy, connection and detachment, Patty Griffin continues to push her art forward, as always imbuing every effort with compassion and craft, uncanny perception, and ever- increasing ingenuity.
Presented by The Flying Monkey
ADDRESS
39 Main St
Plymouth, NH 03264
EVENT INFORMATION
Phone: 603-536-2551
TICKET INFORMATION
Phone: 603-536-2551