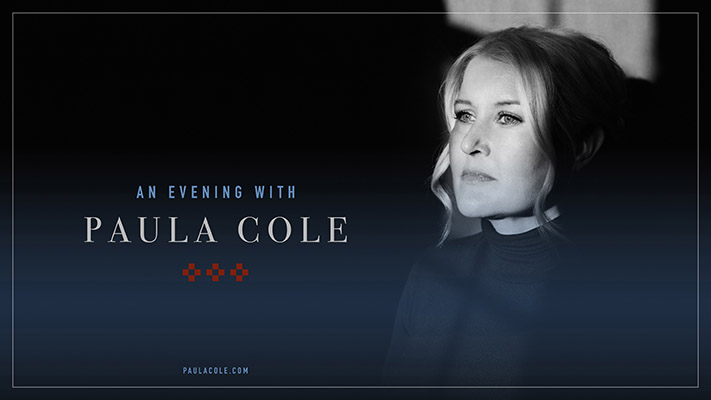 PAULA COLE
DOORS: 6:00PM     SHOW: 7:30     AGES: 13+

Paula Cole has never been afraid of speaking complex truths. With a musical catalog defined by honest and deeply personal lyrics carried by her powerful, radiant voice, Cole has always had a gift for discerning the underlying humanity in stories from her own life as well as those around her, and channeling those emotional elements into captivating music. On her latest record, Cole has applied this natural insight to American history and musical roots traditions by interpreting a selection of classic songs – each of which provide an entry point for rediscovering the overlooked stories and figures that populate America's interwoven cultural lineage.

"I wanted this album to reflect a patchwork of music from the cities and the mountains, the fields and the rivers – from movies, to melodies that traversed oceans, centuries, cultures, and continents – sewn together with our collective heartstrings," says singer-songwriter Paula Cole of the luminous American Quilt. Not just a geographical tapestry, the breathtaking collection is a cavalcade of blues, jazz, folk, pop, and gospel – with Cole's remarkable voice the roadmap to Americana, jazz, and standards.
This time around, on her eleventh album, she has restricted her own writing to one stunning composition, the lyrically and sonically multilayered "Hidden in Plain Sight (I Dream)." "I had heard some historical stories regarding slave quilts, so I did some research and composed 'Hidden in Plain Sight,'" Cole explains. "It is said that women artists created clues and secrets within their quilts and hung them in plain sight for other slaves seeking to flee to the Underground Railroad. The quilts served as education, guidance for the journey. And it was women's work, so nobody paid any attention – and it was a radical act!"
By seeking to elevate the story of marginalized communities from the past and uncover the deeper role their traditions played in America's story, "Hidden in Plain Sight" conveys something of a statement of purpose for American Quilt. And it should come as no surprise that Cole was drawn to the inherently subversive aspects of the story, given Cole's propensity as an artist to give voice to acts of humble, everyday revolution.
American Quilt follows 2019's acclaimed album of originals, Revolution, deemed by PopMatters as "an exceptional piece of work, a timely reminder of how soulful and perceptive a writer and singer Cole is and has always been." Cole's legions of fans would agree.
Presented by The Flying Monkey
ADDRESS
39 Main St
Plymouth, NH 03264
EVENT INFORMATION
Phone: 603-536-2551
TICKET INFORMATION
Phone: 603-536-2551