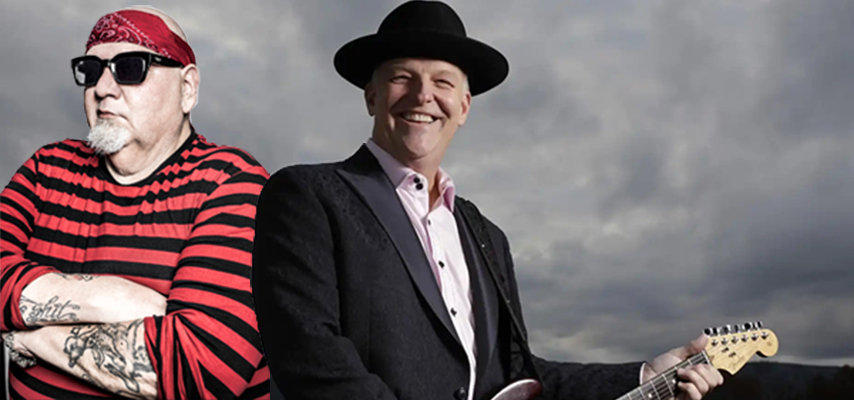 POPA CHUBBY & ALBERT CUMMINGS
DOORS: 6:00PM     SHOW: 7:30     AGES: 13+
POPA CHUBBY
Popa Chubby, born Ted Horowitz, has been hard rocking the blues in his fierce and soulful way for more than 30 years. Over the course of a career that dates back to 1994, he has been a force of to be reckoned with on the guitar, and his tempestuous, soulful playing has never been more powerful. An imposing figure with a shaven head, tattooed arms, a goatee and a performance style he describes as "the Stooges meets Buddy Guy, Motörhead meets Muddy Waters, and Jimi Hendrix meets Robert Johnson," Popa Chubby is an endearing character who is one of the genre's most popular figures.
His career has always been about moving forward and carving a place for himself in the imposing terrain of the music business, overcoming odds to continue growing and maturing as a creative force. He has built a constantly increasing base of fans across the world, where in many territories he is a star. A native New Yorker, Horowitz's first gigs were in the NYC punk scene as a guitarist for what he reflects was a "crazy Japanese special effects performance artist in a kimono called Screaming Mad George who had a horror-movie inspired show." Right from the start he was immersed in rock 'n' roll as theater, and learned from George and others playing CBGB's at the time that included the Ramones, the Cramps, Richard Hell, whose band, the Voidoids he joined that rock 'n' roll should be dangerous. He reflects, "Musicians like the Ramones and the Sex Pistols weren't just bands. They were a threat to society."
The Blues however was the foundation of his playing style. He recalls, "Since I'd grown up on Hendrix, Cream and Led Zeppelin, when I started playing blues in New York clubs I understood that the blues should be dangerous, too. It wasn't just from playing in punk bands. Howlin' Wolf and Muddy Waters were dangerous men. They'd cut or shoot you if they thought it was necessary, and Little Walter packed a gun and wouldn't hesitate to use it. That danger is a real part of the Blues and I keep it alive in my music."
Popa Chubby is his own man for better or worse. He reflects, "I'm living in a wild time, and that is where the inspiration is drawn from. There are my issues, but the picture is much bigger than me and my situation. Everything is breaking down in the world. The lines are being redefined. We all need something."
ALBERT CUMMINGS
In the trajectory of watching great musicians develop, there is no set timetable. Some appear full-blown right from the start, and others can take a whole career to get to that elevated place. Albert Cummings arrived strong right at the beginning and has kept growing over a course of endless tours and nine previous albums, right up to today with the release of the album TEN. It's the kind of recording that shows exactly why all the accolades and excitement have been deserved. Now, it's an irrevocable truth that the musician has made his full-on breakthrough. And it comes at exactly the perfect time, when the world is looking into what might be in store past the challenging experience of the pandemic for the last two years. Music, being one of the world's tried and true joys of life, has always had a way of bringing healing and inspiration to listeners, and at no time in recent decades has it been needed more than now.
When Albert Cummings started making plans for the sessions that would become TEN, his first sign that this would be a turning point for him was when he connected with producer Chuck Ainlay. With Ainlay's credits working with Mark Knopfler, both solo and with Dire Straits, and George Strait, Miranda Lambert, Emmylou Harris and many others, it was immediately obvious that this new album would be one for the ages. Cummings knew a new vista for his music was right in front of him. "When you walk into a room with a producer like this, it feels like there is a whole new world of possibilities ready to open up," he says, "and I felt like things were really turning in an exciting new direction."
For someone with the kind of background Albert Cummings has, that kind of confidence about his new music says it all. This is a singer and guitarist who has played with many of the greatest players of the modern era, and received the kind of awards and recognition that few others do. Raised in Massachusetts and self-taught on the banjo, it was a 1987 concert by Stevie Ray Vaughan and Double Trouble that opened Cummings to a new world of modern blues and inspired him to take up the guitar. It didn't take long from there for him to find his way to the front of the pack. In fact, Albert Cummings' very first album FROM THE HEART (2003) was produced by Double Trouble's Chris Layton and Tommy Shannon and included the group's Reese Wynans on keyboards. That had not happened before Cummings' release.
From that first album, the burgeoning blues world of the 2000s opened its doors for Albert Cummings. He recorded several albums for Blind Pig Records, and on 2012's NO REGRETS the guitarist extended the boundaries outside the blues world to include country and rock influences like he really hadn't before. It was obvious that the musician did not want to limit himself in any way, and saw a wider possibility for where his music could go. With its release on Cummings' own indie label imprint, Ivy Music Company, TEN is a full realization of that possibility.
Presented by The Flying Monkey
ADDRESS
39 Main St
Plymouth, NH 03264
EVENT INFORMATION
Phone: 603-536-2551
TICKET INFORMATION
Phone: 603-536-2551