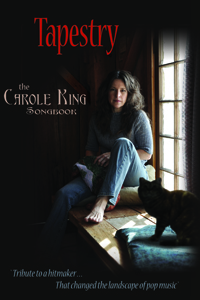 TAPESTRY The Carole King Songbook
DOORS: 6:00PM SHOW: 7:30 AGES: 13+
'Tapestry', the Carole King Songbook, featuring Suzanne O Davis  is the Premier musical tribute to Carole King.
This show recreates the sound and vibe of a 1970's Carole King concert experience following her legendary album, Tapestry. You will be transported back to the iconic image of her multiple Grammy winning album of 1971.  The concert performance will also bring to life many hits from the  Broadway musical smash, 'Beautiful'
The Tapestry show performs all the music from the 'Tapestry' album,  and also features many songs that Carole King and her husband, Gerry Goffin,  wrote in the 1960's.  They proved to be one of the most successful song writing teams in pop music history, composing more than 400 songs recorded by over 1,000 artists. These artists include:  The Drifters, The Beatles, Herman's Hermits, Donnie Osmond, Aretha Franklin, The Shirelles, Bobby Vee, and the list goes on…
Impeccable attention to detail is taken in recreating a respectful, and accurate full musical presentation with full band, completely live. Suzanne's performance takes you on a journey back to those great recordings with  stories about the music, history of Carole King's incredible career,  and a fun, sing-a-long, audience interactive performance.
You will feel the Earth Move under your feet with this show.
Presented by The Flying Monkey
ADDRESS
39 Main St
Plymouth, NH 03264
EVENT INFORMATION
Phone: 603-536-2551
TICKET INFORMATION
Phone: 603-536-2551