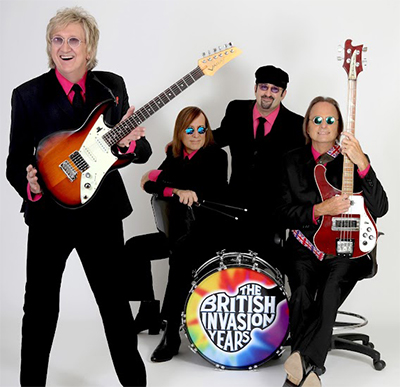 THE BRITISH INVASION YEARS
DOORS: 6:00PM     SHOW: 7:30     AGES: 13+

More than just the Beatles, this nostalgic musical tribute spans the entire 60s British Invasion era with music from BOTH sides of the Atlantic, and is three acts in one:

The first act includes songs by iconic British groups such as The Zombies, Dave Clark Five, The Rolling Stones, The Hollies, Herman's Hermits, Gerry and the Pacemakers, Manfred Mann and many others.

The American Response follows, with music by such legendary artists as The Monkees, Simon & Garfunkel, The Beach Boys, The Mamas and The Papas, The Turtles, Paul Revere & The Raiders, to name just a few.

This journey through the 1960s concludes with an extraordinary finale with songs from the four lads that started it all– The Beatles! "When we came up with the idea for a finale, we posed the question, 'What if the Beatles had to perform their music today as the four-piece band they were?'. The result is truly astounding.

The group has shared the stage with legendary artists such as The Beach Boys, Ringo Starr and his All-Starr Band, Leon Russell, and many, many more.

Celebrate the Groovy Generation!

Presented by The Flying Monkey
ADDRESS
39 Main St
Plymouth, NH 03264
EVENT INFORMATION
Phone: 603-536-2551
TICKET INFORMATION
Phone: 603-536-2551