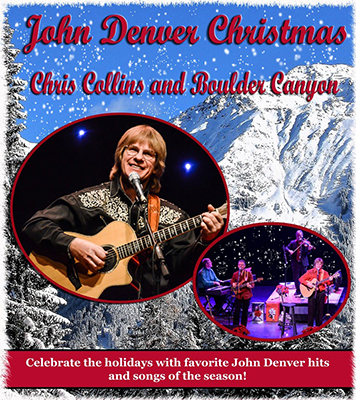 The JOHN DENVER Christmas Show
DOORS: 2:30PM     SHOW: 4:00     AGES: All Ages

Celebrate the Holidays with favorite John Denver hits and songs of the season!
Chris Collins and Boulder Canyon have toured internationally together delighting audiences with their talent, warmth and humor. Collins and some of the original artists of Boulder Canyon originally met in Aspen, Colorado at the largest annual celebration of John Denver's life and music. Since that first initial meeting, Chris and Boulder Canyon have gone on to tour from coast-to-coast to pay tribute to the music of John Denver. With similarities between Chris's and John's voices, award-winning singer, songwriter Chris Collins brings amazing energy and the unmistakable enthusiasm to the stage that was a hallmark of a John Denver performance. The consummate musicians of Boulder Canyon consists of Kevin Delmolino or Joel Tolley on bass, Paul Swanton on lead guitar, Alexander Mitchell on mandolin/fiddle, Nigel Newton on keyboards, and guest band members Robbie Saunders on bass and Bill Powell on keyboards. Hailed as outstanding tribute artists for their authenticity and musical style, Chris Collins and Boulder Canyon have been receiving much acclaim from audiences in theaters, venues and concert halls everywhere they perform. From sold-out shows to breaking a theater record for the largest audience ever to attend an event, Chris Collins and Boulder Canyon have emerged as top performers of John Denver's music.
Chris Collins and Boulder Canyon are not an impersonation act, but seek to honor John Denver's legacy with fresh energy and musical integrity in keeping his timeless music alive. Through the show's stunning visuals of nature and captivating performance, Chris Collins and Boulder Canyon will take you back to the days reminiscent of the concerts of one of the greatest artists and humanitarians of our time.
Presented by The Flying Monkey
ADDRESS
39 Main St
Plymouth, NH 03264
EVENT INFORMATION
Phone: 603-536-2551
TICKET INFORMATION
Phone: 603-536-2551