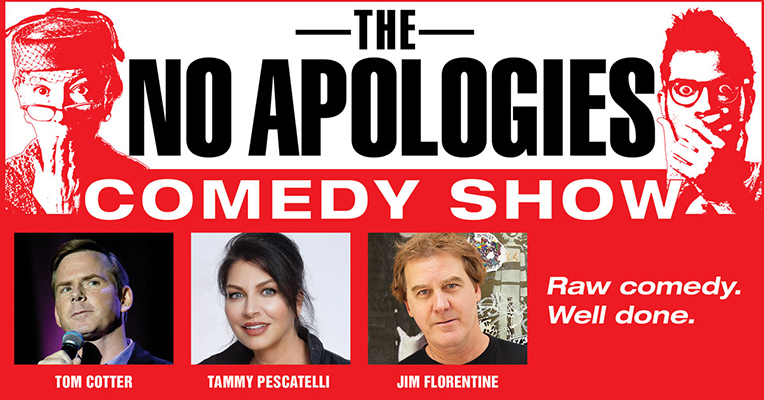 THE NO APOLOGIES COMEDY SHOW: Tom Cotter, Tammy Pescatelli & Jim Florentine
DOORS: 6:00PM     SHOW: 7:30     AGES: 18+

These three comedians tell it like it is, hold nothing back, take no prisoners, and make no apologies! Combined, they have national comedy credentials that include performances on:

America's Got Talent • The Tonight Show with Jay Leno The Late Show with David Letterman • CONAN • The Late Late Show with Craig Ferguson • Last Comic Standing • Byron Allen's Comics Unleashed • Just For Laughs—Montreal Comedy Festival • The Howard Stern Show (SiriusXM) and many more.

NUMEROUS COMEDY ALBUMS • MILLIONS OF YOUTUBE VIEWS

They have performed at casinos, theaters, and every comedy club in the country. For an evening of side-splitting laughs, don't miss The No Apologies Comedy Tour when it makes a stop in your area!
JIM FLORENTINE
For nearly 25 years Jim Florentine has been making audiences around the world laugh across nearly every type of media. Jim has recorded six stand-up comedy albums and shot four full-length specials. On television Jim hosted 7 seasons of VH1 Classic's "That Metal Show" as well as lending his voice to the ground breaking "Crank Yankers". On radio Jim has been a regular on The Howard Stern Show, the Opie & Anthony show and currently hosts his own program on Sirius XM. In addition Jim is a best selling author, world-renowned voice over talent and has been featured in the film's "Beer League" with Artie Lange and "Trainwreck" with Amy Schumer. Jim's podcast "Everybody is Awful…Except You" has been met with rave reviews.
TOM COTTER
Even before his historic finish as the Runner-Up on the world's largest talent competition, NBC's America's Got Talent, Tom Cotter was already one of the most prolifically funny comedians in the country. Yet, in the time since his standout, standup performances on that program, he has only continued to hone his craft, treating audiences across the United States and around the world to a tour-de-force of homespun satire and side-splitting wordplay. Tom earned his chops winning the Seattle International Comedy Competition, the grand prize at The Boston Comedy Festival and was voted "Best Stand-Up" at The Las Vegas Comedy Festival. Today, he remains a familiar face from appearances on the late night talk show circuit, in countless broadcast and cable comedy programs, and in his own original comedy specials. Yes, Tom's got talent. And he'll give you a belly ache from laughing to prove it!
TAMMY PESCATELLI
Bringing a brassy sexiness coupled with a witty sarcasm to her audiences, Tammy learned her funny skills growing up in a large and crazy Italian family! As relatable as she is hilarious, audiences agree that they wish Tammy was their best friend or sister! Tammy's reality series, A Stand Up Mother (which she co-created, executive produced, wrote and starred in) documented her life as she balanced her family and her growing career with a lot of laughs. She was chosen by Jenny McCarthy to be part of her "Dirty, Sexy, Funny" comedy special and she was one of the Final Five on NBC's "Last Comic Standing" Season 2. Tammy has won "Comedy Central's Stand-Up Showdown", and has made numerous TV appearances. A regular on USO Comedy tours, Tammy has entertained our troops all over the world. She co-stars in the sleeper hit "Everybody Wants to Be Italian", "Single", and in the award winning indie film "Made in Brooklyn." With an eye for finding the funny in all situations, Tammy has truly solidified her place as one of the sharpest comics in the comedy world today!
Presented by The Flying Monkey
ADDRESS
39 Main St
Plymouth, NH 03264
EVENT INFORMATION
Phone: 603-536-2551
TICKET INFORMATION
Phone: 603-536-2551