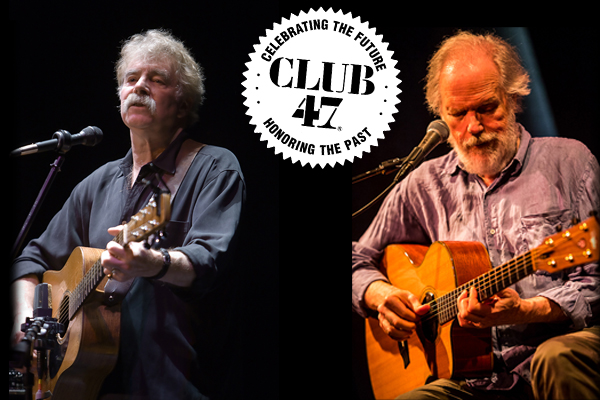 CLUB 47™ FEATURING TOM RUSH AND LEO KOTTKE
DOORS: 6:00PM     SHOW: 7:30     AGES: 13+
Club 47™ featuring Tom Rush and Leo Kottke
with special guests Matt Nakoa and Monica Rizzio
Now celebrating 52+ years of touring, Tom has been thrilling audiences here and abroad with hits like No Regrets, Circle Game, Remember Song, Urge for Going and Merrimack County.
Tom Rush's impact on the American music scene has been profound. He helped shape the folk revival in the '60s and the renaissance of the '80s and '90s, his music having left its stamp on generations of artists. James Taylor, Emmylou Harris, Tom Petty and Garth Brooks have cited Tom a major influence.  His early recordings introduced the world to the work of Joni Mitchell, Jackson Browne and James Taylor.  Subsequently, his Club 47 concerts brought attention to artists such as Nanci Griffith and Shawn Colvin.
As vital and engaging as ever, Tom is still doing what audiences love him for: writing and playing …passionately, tenderly…knitting together the musical traditions and talents of our times. He's also celebrating a YouTube hit, The Remember Song,  for his generation that's gone viral with over 7 million views.
Acoustic guitarist Leo Kottke was born in Athens, Georgia, but left town after a year and a half. Raised in 12 different states, he absorbed a variety of musical influences as a child, flirting with both violin and trombone, before abandoning Stravinsky for the guitar at age 11.
After adding a love for the country-blues of Mississippi John Hurt to the music of John Phillip Sousa and Preston Epps, Kottke joined the Navy underage, to be underwater, and eventually lost some hearing shooting at lightbulbs in the Atlantic while serving on the USS Halfbeak, a diesel submarine.
Kottke has been awarded two Grammy nominations; a Doctorate in Music Performance by the Peck School of Music at the U of Wisconsin, Milwaukee; and a Certificate of Significant Achievement in Not Playing the Trombone from the U of Texas at Brownsville with Texas Southmost College.
Matt Nakoa is an award-winning songwriter, singer, and multi-instrumentalist. A modern troubadour, he makes his home on the highways and concert stages of America and appears regularly with folk music icon Tom Rush. The Boston Globe says of Nakoa, "Between his piano chops and heartfelt originals on guitar, he drops jaws."  Born on a small goat farm in New York State, Nakoa trained to be a concert pianist before accepting scholarship to Berklee College of Music as a vocalist. He developed his dramatic songwriting style with his college art-rock band, The Fens, and when the band dissolved, he landed in NYC. It was in Manhattan's all-night piano bars that Matt developed an uncanny ability to command the attention of any audience.
With a perspective equally influenced by her Texas roots and her Cape Cod home, Americana singer-songwriter Monica Rizzio has emerged as one of the finest talents in the East Coast music scene. Monica released her debut album, aptly named Washashore Cowgirl, in 2016; where it was Monica's solo introduction after a decade in the trio Tripping Lily, Sunshine is Free is her expansion — after time spent on the road, she realized it was time for her to start collaborating again and recorded the album in Nashville with producer Michael Rinne and a stacked lineup of guest musicians. Throughout the eleven tracks on Sunshine Is Free, Monica appreciates the little things in life and looks for silver linings where necessary. It's clear she has a keen ability to connect; her songs are often autobiographical but delivered through a fictional approach that aids in creating a universal experience for the listener — whether it's expressed using her trademark sense of humor or with such striking honesty that the pain in her voice is tangible.
Presented by The Flying Monkey
ADDRESS
39 Main St
Plymouth, NH 03264
EVENT INFORMATION
Phone: 603-536-2551
TICKET INFORMATION
Phone: 603-536-2551