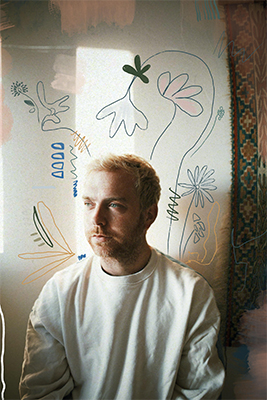 TREVOR HALL – An Evening In a Blue Sky Mind
A Solo Night of Song & Story
DOORS: 6:00PM SHOW: 7:30 AGES: 13+

Solo Acoustic Performance

Raised on an island in South Carolina, singer/songwriter Trevor Hall realized at a young age that music was more than just a passion – it was his life's art. At sixteen, he recorded his first album. Shortly after, Hall left South Carolina for Idyllwild Arts Academy in California where he studied classical guitar and was introduced to the practices of yoga and meditation, which would greatly influence his life and his music.

Hall's music, a blend of roots and folk music with touches of electronic elements, is imbued with a deep love of Eastern Mysticism. This powerful symbiosis fostered a deep connectivity with his growing fan base and Trevor quickly matured into a leader of the burgeoning conscious musical community. Along with numerous pilgrimages to India, he has sold out the historic Red Rocks Amphitheatre in Colorado as a headliner and he also completed a series of sold-out international tours with artists such as Ziggy Marley, Jimmy Cliff, Michael Franti, John Butler Trio, Matisyahu and Brett Dennen.

Trevor Hall's prior release, THE FRUITFUL DARKNESS, was his first independent release and the #1 music campaign of 2017 on Kickstarter. The album was released on June 1st, 2018 and premiered at #4 on the iTunes Alternative Charts. In the lead up to the new album, IN AND THROUGH THE BODY, Hall released a 2020 single featuring Brett Dennen, Put Down What You Are Carrying, which immediately became one of the top streamed songs in his scene.

Chapter of the Forest (2014) and KALA (2015), debuted at #3 and #2 on the iTunes singer/songwriter chart respectively.

Hall and his wife, Emory, created the Where the Rivers Meet Foundation in 2020 in order to continue their humanitarian efforts in both India and Nepal. "After decades spent traveling across India and Nepal," they say, "we were inspired to create a foundation that could give back to those lands and people that touched and impacted our lives so immensely."

IN AND THROUGH THE BODY was produced by Brad Cook (Bon Iver, Hiss Golden Messenger), with additional instrumentation from Phil Cook (Megafaun) and Matthew McCaughan (Bon Iver), as well as vocal accompaniment from Emory Hall. Hall's mother and sister also have vocal appearances on a song, making the album truly a family affair. The album was recorded in Durham, North Carolina and mixed at Great Stone Studios in Oakland, California (former home of Green Day) by Johnny Cosmic (Stick Figure).

Presented by The Flying Monkey
ADDRESS
39 Main St
Plymouth, NH 03264
EVENT INFORMATION
Phone: 603-536-2551
TICKET INFORMATION
Phone: 603-536-2551